What Is an Anti-Fingerprint Screen Protector?
An anti-fingerprint screen protector is a sheet of transparent material that limits scratches to a screen and also resists smudging and fingerprints. For devices with touch screens or small screens that are likely to be handled, like that of a cell phone, the anti-fingerprint protection can keep the screen cleaner and clearer. A number of manufacturers produce such products for various applications, and it is possible to buy custom-fitted products for particular devices, as well as larger sheets that can be cut down to size.
The primary purpose of screen protection supplies is to limit damage to a screen. Scuffs and scratches can obscure visibility, and may damage the components of the screen. Protection keeps the screen clean, and provides a surface that is easy to dust or wipe down. Screen protectors are available for portable devices as well as computer desktops and similar equipment. Some may come with additional features like anti-glare protection to make them easier to use in bright conditions.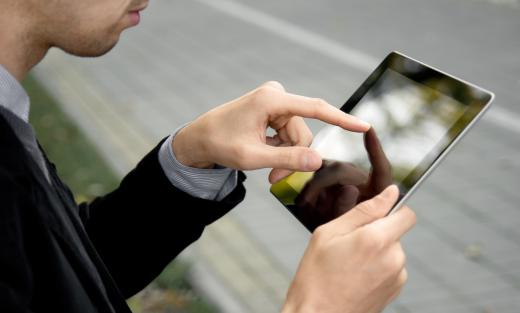 Fingerprints are a common issue, particularly with handheld and touchscreen devices. Oils in the hands may leave smears and residue that, over time, can obscure visibility. An anti-fingerprint screen protector uses plastic treated with chemicals that resist oils. Fingerprints will not adhere to the surface, which should stay clean to the touch. Dust and other materials may build up over time, so it will still be necessary to periodically wipe the device down with a clean cloth.
The anti-fingerprint coating typically costs slightly more because of the added complexity of production. Consumers looking for screen protection products may want to consider the working conditions when they decide on the best product for their needs. It is possible to combine multiple protection needs into one product, as for example in an anti-glare, anti-fingerprint screen protector that allows people to use their equipment in bright light without leaving fingerprints.
Electronics stores typically carry screen protection products and accessories such as lint-free cloths for cleaning. When applying an anti-fingerprint screen protector, it is important to thoroughly clean the surface before applying the film, as dust, fingerprints, and debris can interfere with the adhesive. The sheet must be placed carefully and smoothly pressured to push out bubbles of air that may become trapped underneath. It is also advisable to leave the protective outer backing on until the screen protector is in place, as it can make the sheet of plastic easier to handle.
AS FEATURED ON:
AS FEATURED ON:

By: ?

A touchscreen tablet computer with an anti-fingerprint screen protector.