What is an Elmo® Document Camera?
An Elmo® document camera is a device typically used for making presentations. It captures images on paper or other formats and can then be used with various other devices to display the captured image. These types of devices are often used with projectors to project an image to a large screen, typically for business meetings or in a classroom. An Elmo® document camera is made by Elmo USA®, a company established more than 80 years ago and, though not the only maker of document cameras, is something of a leader in the industry.
Document cameras are devices specifically made to capture document images, often text or photographs, and then allow those images to be displayed in a number of ways. This can often include the use of a projector, though the image can also be sent to a monitor, computer system, or television screen. Document cameras have replaced older devices such as overhead projectors in many respects, since the document camera can capture any type of image and does not rely on the use of transparent documents. There are numerous manufacturers of document cameras, including Samsung® and Epson®, and an Elmo® document camera is simply one specific type.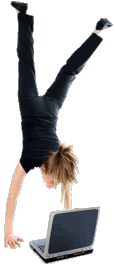 An Elmo® document camera can have a number of different features, depending on the model and the intended purpose of the unit. Many of these devices are designed to be used with a projector to display the image captured by the camera onto a large screen. Some are even packaged with a projector included as a single purchase. Most have an adjustable arm with the camera mounted on it, allowing the user to move, rotate, and adjust the device in a number of different ways.
The camera on an Elmo® document camera usually allows a user to zoom in and out to focus on specific items during a presentation, often without losing visual clarity. Since the document camera is capturing the image in real time, a user can write on the document and make other changes, which will show up on the image as it is being seen. Some document cameras are also designed to work with a user's computer, allowing him or her to open a program on the computer and manipulate the image as it is being projected onto a screen. This allows technical demonstrations or additions to be made to a presentation in a way that is interactive and goes beyond handwriting.
AS FEATURED ON:
AS FEATURED ON:

Woman doing a handstand with a computer