What is an Image Scanner?
An image scanner is a device which scans pictures, text or objects and converts them to digital images. The basic types of image scanners are flatbed, hand, film and drum scanners. Flatbed scanners are what we call Xerox machines, in which an object or document is placed on a glass pane and an opaque cover is lowered over it. A sensor and light moves along the pane, reflecting off the image placed on the glass. The cover prevents other light from interfering and the image becomes visible to the detector.
Once an image is scanned into an image scanner, the data must be processed and sent to a computer. Most scanners read red-green-blue color from the color array. The depth of color depends on the array characteristics, but is typically 24 bits at least. Higher quality models have a color depth of 48 bits or more. The pixels per inch measures the resolution of the image.
There are three main types of image scanners. These are hand scanners, film scanners and drum scanners. A hand image scanner comes in document or 3D forms. These are used to be manually moved across an object or image to be scanned.
The scanner produces light from green LEDs which highlight and scan the image onto a computer to be viewed. An image scanner can also be 3D, and these scanners are now the most popular form of hand scanners on the market today. These image scanners are able to compensate for the uneven movements of the hand by relying on placement of reference markers to mark correct positions.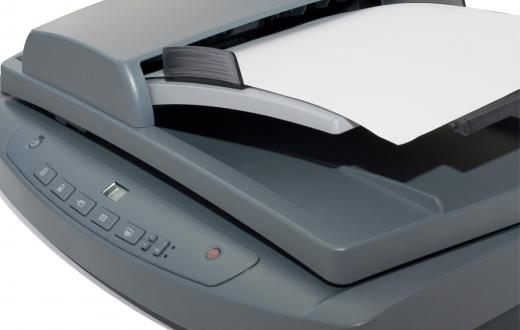 Film scanners are used in photography and slides. The slide or negative film is inserted in strips of six or less frames or four mounted slides into the film scanner, and is then moved across a lens and censor to capture the image. In inexpensive and flatbed scanners, image information is caught using charge-coupled device arrays.
Drum scanners use photo multiplier tubes rather than CCD arrays. While a flatbed scanner can produce excellent reflective images, a drum image scanner can gather image information from both transmissive and reflective originals. They are mounted on an acrylic cylinder that rotates while passing the object in front of precision optics which then transfer the image information to the PMTs.
Most drum scanners use three matched PMTs that can read red, blue and green light. The light of the object being scanned is separated into red, blue and green beams. Drum scanners are not as widely produced now that more quality flatbed scanners are available, but drum scanners are often used for high-end applications of film. Compared to CCD flatbed and film scanners, the drum image scanner is a considerable financial investment.
AS FEATURED ON:
AS FEATURED ON:

By: herreneck

Specialized scanners are able to reproduce digital images from photo slides.

By: Konstantin Shevtsov

Flatbed scanners are one of the most common types of image scanners.

By: Gianluca Rasile

Photocopiers use flatbed scanner to capture an image, then it can be reprinted.

By: Mat Hayward

Image scanners can help make copies of special photographs.