What Is an Online Portal?
A portal is a door or an entryway. The term online refers to the Internet and the web pages that form part of the World Wide Web. An online portal, or web portal, is a website that provides an entry point for a range of information, tools, and links.
An online portal may serve a variety of purposes. Some types of portal are meant to serve as a one-stop shop for most of what certain Internet users would need most. By offering an array of the most often used types of information and services — and sometimes allowing for personalization — an online portal can save a user a lot of time. One part of the typical offerings for this type of portal are the top current events that are found in many newspapers: headlines and links to important national — and maybe local — news, weather forecasts, the day's primetime television listing, stock market reports, and sports headlines. Also typical are entertainment news, health news, dating and romance tips, a horoscope, trending topics, hyperlinks to related sites, a search engine, and sometimes free, web-based email.
Another type of online portal is a company portal, often called an enterprise portal. This type of web portal is generally hosted on a corporate Intranet and is the Intranet entry point. It features information and tools of interest and value to the employees of the company. Like other portals, it may feature search engine functionality, but focused on internal assets, access to web-based email, content specifically for employees, and in some cases, broader Internet access, possibly only to selected sites. This type of portal may also include functions that are associated with a business dashboard.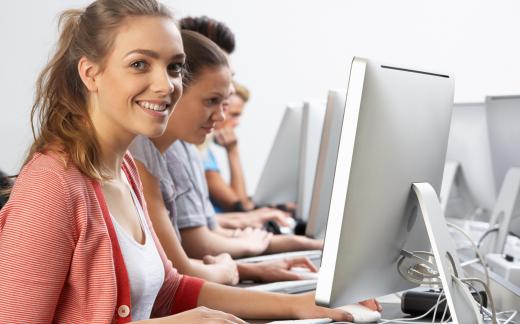 A vertical industry portal, or vortal, is an online portal that is specialized to reflect the interests and needs of the members of a particular industry. Thus, all the information — whether data, news, statistics, or research, tools, forums, and other offerings are linked to the target industry. Vortals may be hosted by special interest groups, associations, and trade magazines. Vortals are found in fields such as agriculture, computers, energy, entertainment, business services, construction, and advertising, and may also be involved in ecommerce.
AS FEATURED ON:
AS FEATURED ON:

By: See-ming Lee

Hyperlinks can lead to related sites.

By: micromonkey

An intranet portal is a multi-function website that includes public and private sections, personalized content, and data retrieval and submission tools.

By: Adrin Shamsudin

An education portal is a specially designed website that provides a host of educational services.

By: Andrey Kiselev

Some online portals are used to seek out dating and romance tips.

By: Monkey Business

Fitness groups can utilize online portals to organize group workouts.