What is an Optical Trackball?
An optical trackball is a computing device that allows the user to select or navigate through computer content. It contains a stationary base, a protruding ball housed in a socket, and one or more buttons that allow the user to perform the functions of clicking. Some optical trackballs also contain a scroll wheel to for ease of scrolling through web sites and documents.
The ball portion of the optical trackball is covered with dots arranged in a pattern. As the user manipulates the ball with his fingertips, infrared optical sensors read the movement of the dots and send the data to the computer. This feature may allow for a more precise tracking of movements than non-optical trackballs, since non-optical sensors simply read the rotation of the ball on two axes. An additional benefit of optical trackballs over their non-optical counterparts is that they detect movement optically; dust, dirt and skin oils do not interfere with the detection of movement. However, the ball and sensors should be cleaned on a regular basis according to manufacturer's instructions to ensure optimal functioning.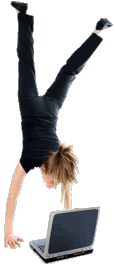 Some benefits of the optical trackball are that it requires less desk space than a conventional mouse. No mouse pad is necessary since the ball is the only portion of the trackball that moves. Many optical trackballs also offer ergonomic benefits to their users. Some are designed so that the wrist remains in a neutral position. Additionally, many are able to be operated by either hand, allowing users the freedom to change hands as desired.
Trackballs designed specifically for left-handed users are not readily available, so left-handed users typically either choose an optical trackball that may be used by the left hand or simply adjust to using the trackball with their right hand. Wrist rests made out of gel or other materials may add to comfort in using a trackball.
Trackballs are most commonly sold as individual units that are connected to the computer through a USB, serial port, or wireless access. Some trackballs may be incorporated into the design of the keyboard. The keyboards that do include a trackball usually house it in the upper right-hand corner of the keyboard. Portable computers sometimes do contain trackballs, although these have been largely replaced by touchpads. Trackballs may also be sold as small thumb-sized balls that attach to the side of the keyboard. Most of the trackballs found on portable computers and computer keyboards are not optical, although there are some keyboards that do have optical trackballs.
AS FEATURED ON:
AS FEATURED ON:

Woman doing a handstand with a computer