When it pertains to cellular phones, the acronym SMS stands for short message service. In some places, this is more commonly referred to as text messaging. An SMS alert is a message sent to a cellular device, such as a phone, to notify the receiver of something. It is also possible to receive such alerts on a computer utilizing a cellular service such as a 3G mobile Internet connection.
An SMS alert is received in much the same way as a phone call is received. There is normally a sound or vibration that will indicate that the message has come in. The receiver may be able to see the sender's telephone number and name. She may also be able to see an excerpt of the message. If the receiver does not want to view the message that contains the alert, she does not have to open it.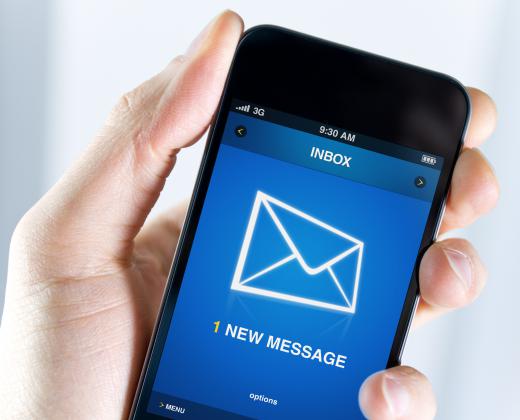 The types of alerts sent and their levels of importance can vary greatly. In many cases, a person will receive an alert because she has requested notification or accepted an offer to be notified about something. Cellular solicitation is often subject to much stricter rules than landline telephone solicitation. This means that although a company may be free to buy landline telephone numbers and call to offer their products, it may be illegal for them to send an unwanted alert doing the same.
There are various types of SMS alerts that people may consent to. These include appointment reminders, banking transactions, and specials or sales offered by businesses they patronize. In many instances, an alert is sent out to large numbers of people at once. This means that if two people are scheduled to receive the same alert, they should receive them at about the same time. SMS alerts that contain personal information, such as banking transactions or requests for payment, are not usually handled this way.
Sending an SMS alert is often viewed by the sender as a service. In many cases, the senders do not charge the receivers for such messages. There may, however, be a fee charged to both the sender and the receiver by their cellular companies.
In other cases, an SMS alert can be part of a subscription. This is a service where a person pays a fee to receive certain types of notifications. These can include news, sports, and weather updates.
AS FEATURED ON:
AS FEATURED ON:

By: bloomua

An SMS alert may notify cell phone users about upcoming bill payments.

By: Denys Prykhodov

Some retailers use SMS alerts to notify previous customers about a sale or promotion.

By: Giulio_Fornasar

There are various types of SMS alerts that people may consent to.