What is Covert Surveillance?
Covert surveillance occurs when someone or something is being observed without knowledge. People who are under surveillance are most often under suspicion. Locations and buildings are primarily observed because of suspicious activity or to obtain information about a suspect.
Covert surveillance is generally performed by government agencies, private investigators or business owners. Intelligence organizations such as the Central Intelligence Agency (CIA) of the United States and the United Kingdom's Secret Intelligence Service, also called MI6, participate in surveillance to obtain information for national security interests such as counter terrorism. Law enforcement agencies such as the United States' Federal Bureau of Investigation (FBI) or the International Criminal Police Organization (INTERPOL) also perform surveillance. They concentrate on observing suspected criminals.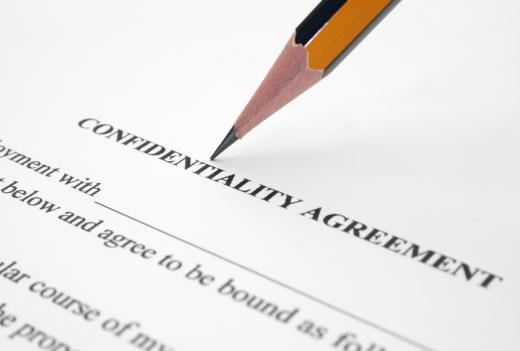 Private investigators perform covert surveillance for a variety of reasons. Husbands and wives hire private investigators to prove or disprove suspected infidelity. Businesses hire private investigators to observe employees who are suspected of fraudulent activities or former employees that may be breaking confidentiality agreements. Insurance companies are notorious for using private investigators to put claimants under surveillance to ensure they are not submitting a fraudulent claim.
Many business owners participate in covert surveillance of their employees and customers. Observing employees while they are working gives business owners valuable information, such as employee production and employee theft. Covertly observing customers can aid in marketing and research efforts and most importantly account for loss due to theft in retail businesses. Retail businesses can also use information obtained through covert surveillance to prosecute shoplifters.
A surveillance operation may be carried out in a number of ways. Agency employees and private investigators may choose to observe a subject without the aid of sophisticated technology, using things such as binoculars and cameras. However, in an age of modern technological conveniences, it is safer, cheaper and more convenient to use surveillance equipment.
Closed circuit television systems (CCTV) are one of the most popular ways to carry out covert surveillance. Cameras come in all sizes and can be placed inconspicuously almost anywhere. In order to obtain audio, wire taps can be placed on phones or audio surveillance equipment may be hidden in a suspect's office, home or vehicle. Other ways to perform covert surveillance include aerial surveillance and the use of global positioning systems (GPS). A GPS placed on a person or moving vehicle can be tracked to monitor movement to specific locations. Similarly, aerial surveillance carried out by national governments can track objects on the ground.
AS FEATURED ON:
AS FEATURED ON:

By: alexskopje

Some companies look for former employees who may be breaking confidentiality agreements.

By: Steve Lovegrove

Covert surveillance can be useful in prosecuting shoplifters.

By: endostock

Covert surveillance is generally performed by government agencies, private investigators or business owners.

By: avecfort

Covert surveillance might be performed as a mean to verify infidelity.

By: Mamuka

Covert surveillance is especially important when investigators are attempting to gather photographic evidence.

By: taramara78

Some surveillance operations are done without the aid of sophisticated technology.

By: denys_kuvaiev

Covert taps may be placed on a person's phone so calls and texts can be surveyed.

By: Andrey Armyagov

Hackers might use spyware programs to conduct covert surveillance.

By: Voyagerix

Covert surveillance might be used to try and catch criminals in the act.

By: NatUlrich

Investigators may attempt surveillance from a safe distance with the help of binoculars.