Double-Data-Rate Synchronous Dynamic Random Access Memory, better known as DDR SDRAM or DDR RAM for short, is a type of very fast computer memory. It's based on the same architecture as SDRAM, but uses the clock signal differently to transfer twice the data in the same amount of time.
In a computer system, the clock signal is an oscillating frequency used to coordinate interaction between digital circuits. Simply put, it synchronizes communication. Digital circuits designed to operate on the clock signal may respond at the rising or falling edge of the signal. SDRAM memory chips used only the rising edge of the signal to transfer data, while DDR RAM transfers data on both the rising and falling edges of the clock signal, making it essentially twice as fast as SDRAM.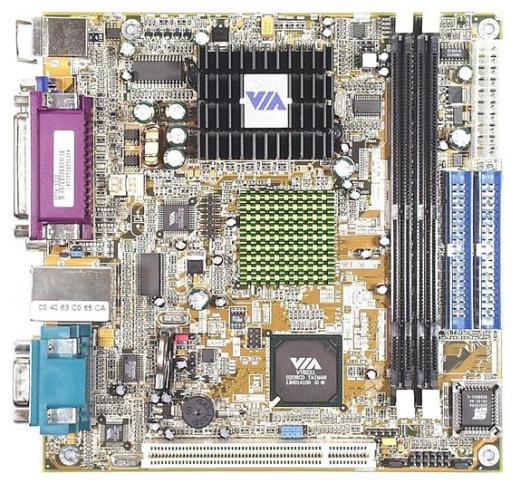 RAM speed works in conjunction with the front side bus (FSB) of a computer system. The FSB is the two-way data channel that sends information from the central processing unit (CPU) throughout the motherboard to the various components, including the RAM, BIOS chips, hard drives and PCI slots. Therefore, a computer system with a FSB of 133MHz running DDR SDRAM will essentially perform like a 266MHz machine.
The 184-pin DDR RAM dual in-line memory modules (DIMMS) only work properly in a motherboard designed for their use. While this RAM comes in various speeds, installing a version faster than a motherboard can support is a waste of money, since it will only run as fast as the motherboard permits. It is visually differentiated from SDRAM in that SDRAM is a 168-pin DIMM with a double notch at the bottom along the pins — one notch just off-center, the other offside. The 184-pin DDR SDRAM has a single off-center notch.
DDR RAM is generally made for processors 1GHz and faster. Designations like PC1600 DDR SDRAM and PC2100 DDR SDRAM coincide with particular FSB and CPU speeds. RAM manufacturers use different schemes to designate processor speed, and the various technicalities in RAM designations and standards can be confusing. Computer users should check their motherboard manual to see what RAM type is compatible with their system before purchasing memory.
AS FEATURED ON:
AS FEATURED ON:

By: VIA Gallery

A computer motherboard.

By: il-fede

DDR SDRAM chips can accept more than one write command at a time.