What is Print Management?
Print management can have many definitions. It can be best described as controlling, maintaining and monitoring a printing environment and its productivity levels. Generally, an administrator who engages in print management can manage all the printers on his network. He is provided with real-time status updates on printers and the network on which they operate. In essence, he can manage numerous printers and their environments from one computer. If the administrator were not engaging in printer management activities, he may have to tend to each computer individually.
Printing management is meant to provide companies and organizations with the tools to make the most of their resources. Space, hardware, software and time — as with deadlines — are all considered when attempting to streamline printing operations. Business owners may choose to outsource their printing management activities and heed the advice of professionals who supply printing management services. For example, a third-party printing management service may assess a company's printing processes and offer suggestions like hardware and software upgrades, the relocation of equipment or the addition of an employee to increase productivity.
Reports provided by basic print management activities can aid an administrator in keeping on top of what is happening in his printing environment. If an administrator identifies activities that he thinks may contribute to a problem later on, he may take steps to change those behaviors in the printing environment. For instance, an administrator who notices paper being wasted may impose printing limits or require that users utilize options that allow for double-sided printing.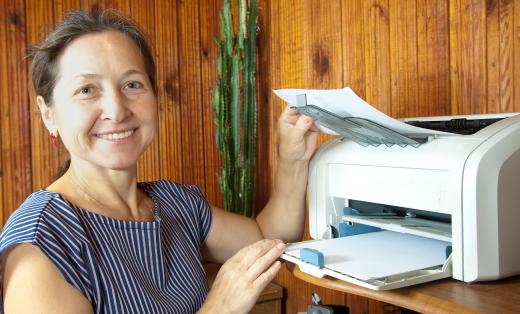 Print management can also help an administrator in their troubleshooting efforts. Notifications and scripts can be remotely sent through the system to address problems. These problems may range in scope from simple toner and paper changes to system failures. Since small issues are caught before they turn into bigger ones, the need for major technical support can be reduced.
Besides streamlining operations, printing management can help in saving money and increasing productivity for a company or organization. For example, beneficial print management activities include those that reduce waste and minimize the amount of repairs required to keep a printing environment operational. To truly experience the benefits of print management, changes will have to be made according to a business's specific needs.
AS FEATURED ON:
AS FEATURED ON:

By: Dmitriy Sladkov

Print management services may include the monitoring of printer toner levels and usage.

By: Daria Filiminova

A administrator who engages in print management may monitor all the printers on his network.