Anyone who works in an office these days, even a virtual office, often will work with a print server. It is simply a device that allows computer workstations to interface with one or more printers that are shared on a network. Each station has the ability to designate one of the printers on the network as its default printer, but may always choose to send a print job to any of the other printers recognized by the server.
The print server itself can either be in the form of a small computer that acts in conjunction with the main office servers — assuming there is a backup server as well as the primary server — to allow printing capability, or actually be loaded onto the main server. In many situations, one of the computers in the network group is designated as the print server. The essential software to allow for this function is loaded onto the hard drive of the computer that will serve this purpose.
Once the hardware is loaded and installed, the software can be configured to recognize all the printers in the office, as well as all the workstations that are allowed access to server functions. Once the credentials are established, each work station can be configured to connect with the server for printing capabilities, including granting or restricting rights to any one of the printers that are recognized by the server.
What this arrangement does is ensure that there is always a printer available to any member of the office team who needs to process a print job. If one printer is temporarily out of service for some reason, then it is a simple task to send the print job to a different printer on the network. Having a server that allows access to multiple printers saves time, money, and a great deal of frustration.
Even a home environment can benefit from the presence of a print server. Instead of printers connected to each individual computer in the home, users can simply purchase one good printer and place it in a central location in the home. Adults can use the central printer for work at home projects, while the kids can use it to print out homework assignments.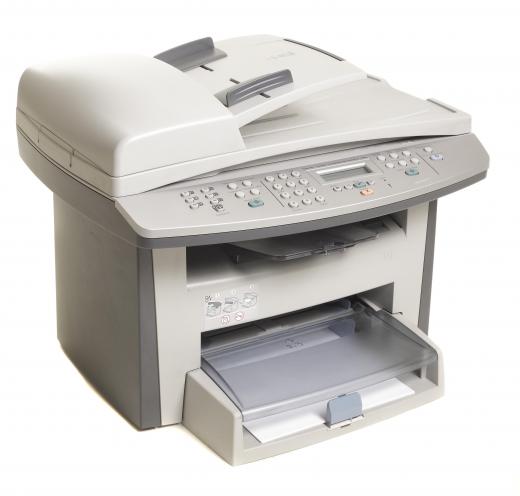 One advantage of using a computer workstation as a print server is that if something goes wrong with the hard drive, it is a simple task to load the printer server software on another work station and set up the configurations. With no waiting for the installation of a new device, work projects can progress with little or no lost time.
AS FEATURED ON:
AS FEATURED ON:

By: Goran Bogicevic

Most modern offices use print servers.

By: Gajus

Usually a small computer, a print server allows computers to interface with one or more printers that are shared on a network.

Racks of servers.

A printer.