What is Random Access Memory?
Random Access Memory, or RAM, most commonly refers to computer chips that temporarily store dynamic data to enhance computer performance. By storing frequently used or active files here, the computer can access the data faster than if it to retrieve it from the far-larger hard drive. RAM is also used in printers and other devices.
This type of storage is called volatile memory, meaning it loses its contents once power is cut. This is different from non-volatile memory, such as hard disks and flash memory, which do not require a power source to retain data. When a computer shuts down properly, all data located in Random Access Memory is committed to permanent storage on the hard drive or flash drive. At the next boot-up, RAM begins to fill with programs automatically loaded at startup, and with files opened by the user.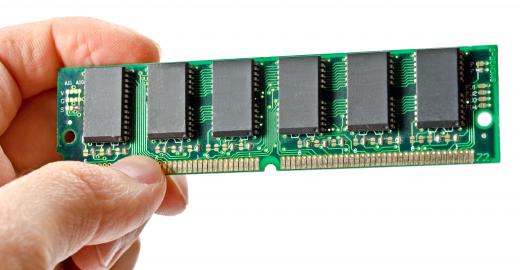 There are several different types of Random Access Memory chips that come several to a "stick." A stick of RAM is a small circuit board shaped like a large stick of gum, and these sticks fit into "banks" on the motherboard. Adding one or more sticks increases RAM storage and performance.
Random Access Memory is categorized by architecture and speed. As technology progresses, RAM chips become faster and employ new standards so that RAM must be matched to a compatible motherboard. The motherboard will only support certain types of memory, and it will also have a limit as to the amount of RAM it can support. For example, one motherboard may support dual-channel Synchronous Dynamic Random Access Memory (SDRAM), while an older motherboard might only support Single In-line Memory Modules (SIMMS) or Dual In-line Memory Modules (DIMMS).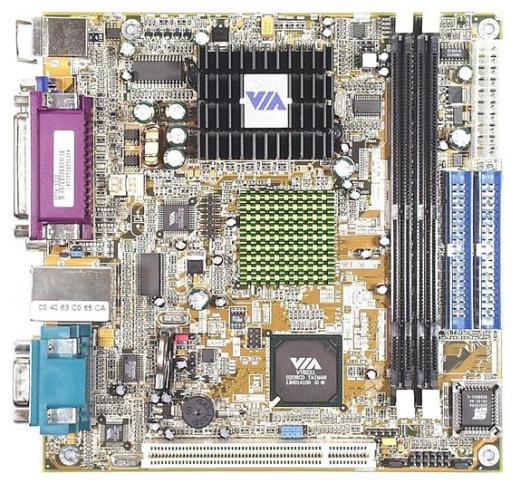 Since Random Access Memory can improve performance, the type and amount of RAM a motherboard will support becomes a major factor when considering a new computer. If there is a faster, better RAM chip on the market, the buyer will want to consider purchasing a motherboard capable of using it. A year down the road, that "new" RAM might be standard, while the buyer may be stuck with an old style motherboard. It's also possible that a new variety of non-volatile Random Access Memory made with nanotubes or other technologies might be available in the near future. These RAM chips would retain data when powered down.
RAM varies in cost depending on type, capacity and other factors. Brand name RAM often comes with a lifetime guarantee at a competitive price.
AS FEATURED ON:
AS FEATURED ON:

By: Sergey Dashkevich

RAM card.

By: VIA Gallery

A computer motherboard.

By: il-fede

SDRAM chips can accept more than one write command at a time.

By: charnsitr

Adding RAM -- or Random Access Memory -- to your computer can increase its performance.