Removable media is a method of storing computer data via usually magnetic or optical means as of 2011. This data is contained on portable storage devices that are not physically attached to a computer in a permanent fashion such as the factory-installed hard drive is meant to be. There are many different types of removable media, and the hardware industry that creates them is continually evolving. Tape drives were the very first forms of removable electronic media made in the 1950s, but those formats marketed for personal computers known as floppy disks did not emerge till the late 1970s into the early 1980s. As of 2011, many new types of storage devices have been created, each with its own unique advantages and disadvantages.
The least portable method of magnetic removable media storage first created in 1951 was the tape drive, which was often used to back up corporate server data, and could initially hold only 224 kilobytes of data. The tape drive has continued to evolve and be used in environments where large amounts of corporate, government, or personal data must be stored on a semi-permanent basis. As of 2011, tape drives exist that can hold up to 5,000 gigabytes of data or 5 terabytes, which is roughly 22,000,000 times more data than the first tape drives could hold in 1951.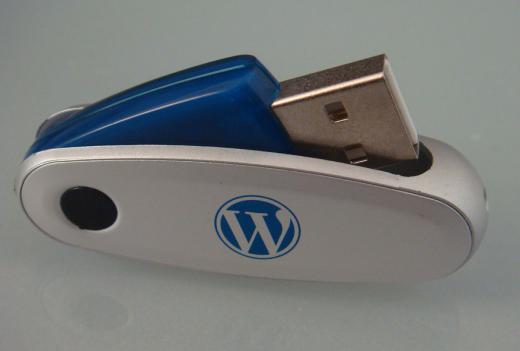 Magnetic tapes known as floppy disks emerged for basic personal computer systems in 1983 and were either 5.25 inches (13.34 centimeters) in size or 3.5 inches (8.89 centimeters) in size, holding a maximum of about 1.2 megabytes each. These technologies and formats were superseded in 1994 by the introduction of the Zip disk, which resembled a thicker version of a 3.5 inch (8.89 centimeter) floppy disk and required a separate hardware reader to be plugged into the computer system to access the disk's contents. The Zip disk initially could hold 100 megabytes of data, and was soon replaced by higher density models that could hold 250 megabytes and then 750 megabytes each.
Magnetic removable media became obsolete for the short-term in the early 1990s as optical data storage started to become practical. By 1997, the compact disk read-only memory (CD-ROM) platform became widely available as a method of optical data storage. Optical disk readers became the norm on personal computer systems, replacing older floppy disk readers, and making the awkward and expensive peripheral of the Zip disk reader obsolete. While CD-ROM disks only held about 700 megabytes of data, they were considered to be more versatile and reliable than magnetic forms of storage, and could be mass produced at a less expensive rate per unit than Zip disks and Zip disk readers.
As of 2011, CD-ROM disks themselves have been largely replaced by digital video disk (DVD) technology, where a single DVD is capable of holding from 4.7 up to 17.08 gigabytes of data. This makes the storage capacity of 1 DVD equal to at least 7 CD-ROM disks. Optical disks like DVDs have the captured market share largely because they can hold the entire contents of a video presentation like a commercial film, whereas this was not possible with earlier forms of removable media. Blu-ray was a new format for the DVD created in the year 2000, which used a more compact blue laser for writing data to the disk. Invented by Sony Corporation in Japan, the Blu-ray format can old from 23 gigabytes to 54 gigabytes of data per disk as of 2011.
As the field of removable media has continued to advance, many types of portable magnetic storage options have become popular on the market, including universal serial bus (USB) flash drives, secure digital (SD) cards, and compact, external USB-connected hard drives. Flash drives can hold up to 16 gigabytes each as of 2011 and are very popular, as they are small thumb-sized units for which almost all personal computers have USB ports, and include software designed to easily read the contents of the drive once they are plugged in. The SD card and high density (HDSD) versions of it have been largely targeted towards the digital camera market, though SD ports also exist on most modern personal computers, where each postage-stamp-sized card holder can contain many thousands of still digital photos, as well as video, audio, and other content.
AS FEATURED ON:
AS FEATURED ON:

By: Debs (ò‿ó)♪

USB flash drive.

DVDs are a type of removable media.

A SD card.

By: Teerapun Fuangtong

Zip drives may be used to store data.

By: Marek Cech

External memory card readers may be used to read memory cards.

By: witthaya

A hard drive reader allows a hard drive to function like a portable mass media device.

By: Brian Jackson

CDs are an outdated from of removable media, but can still be useful for users with CD drive equipped computers.

By: FEG

Flash drives are considered removable media.

By: Iakov Kalinin

Removable media known as floppy disks did not emerge till the late 1970s into the early 1980s.

By: macbrianmun

USB cables are used to connect devices -- such as printers, keyboards and music players -- to computers.

By: madarakis

An external floppy disk drive can be considered removable media.

By: kubais

High-storage tape drives are used to back up corporate server data.