How do I Choose the Best Flash Drives?
A USB flash drive is a portable memory device that uses flash memory to store data. It plugs into the computer through a USB port, where it can then be loaded with data, unplugged, and taken with you. Documents, computer programs, pictures, or music are just a few of the things that can be loaded onto a flash drive. All flash drives can be rewritten many times, but the best flash drives may even specify how many times they can be rewritten and erased, such as one million times over a number of years, for example.
These devices come in various sizes, so to choose the best flash drives, it will be necessary to determine how much space you will need. A flash drive with a small capacity may only be able to hold 1 to 2 GB of data, whereas a high-capacity flash drive may be able to hold up to 256 GB of data. Price is directly related to the size of the flash drive; though the physical size does not generally vary much in different flash drives, the devices steadily increase in price based on memory capacity.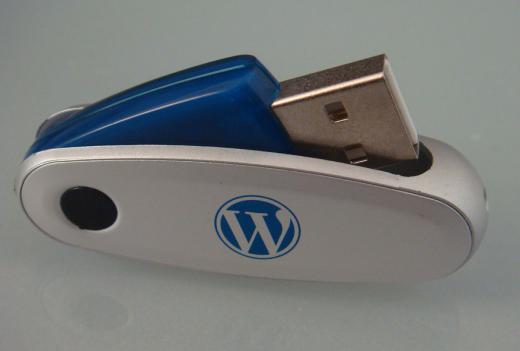 There are many different brands of flash drives as well, and it may be helpful to read reviews online to find what other customers think are the best flash drives. All flash drives are very portable, and most are slightly smaller than a stick of gum. They may be easily attached to a keychain or tossed in a pocket or purse, because they have no moving parts as in a standard hard drive.
When choosing flash drives, you may also consider the color and design of the flash drive. Though most are very simple and similarly designed, as mentioned above, they are often available in many different colors. In addition, some flash drives are available in novelty designs, and may be shaped like a cartoon character, a tube of lipstick, or the cork from a bottle of wine, just to name a few. There are literally thousands of different novelty designs for flash drives, though the downside to these is that they are often bulkier and more difficult to attach to a keychain than a more standard design.
Another option when trying to choose the best flash drives is security. Some flash drives are now equipped with biometric scanners, or may be encrypted to prevent unauthorized access to data. If security is important to you, be sure to keep this in mind before purchasing a small flash drive or loading it with sensitive information.
AS FEATURED ON:
AS FEATURED ON:

By: Debs (ò‿ó)♪

USB flash drive.

By: Andrea Biraghi

A USB flash drive.

By: wellphoto

Flash drives have no moving parts as in a standard hard drive.