A thumb drive, also called a "flash drive" or "jump drive," is a portable solid-state data storage device. It is re-writeable and preserves information without a power supply. Thumb drives will fit into any USB port on a computer. They can also be "hot swapped," which means a user can plug the drive into a computer and will not have to restart it to access the thumb drive. The drives are quite small, about the size of a human thumb — hence, their name — and can safely be tossed into a pocket or purse without fear of damage.
Solid State Memory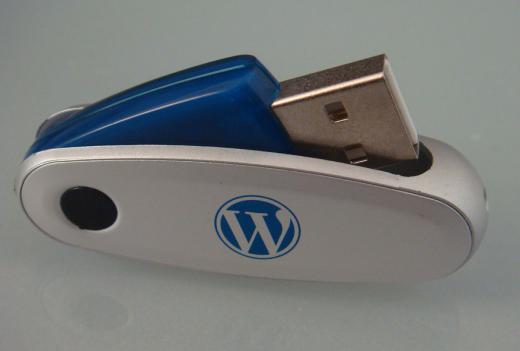 In the late 1990s, manufacturers were challenged to find practical ways to store growing amounts of data on very small portable devices. Hard drives had become quite small, but they were still relatively heavy, and did not work well if used while being moved. This was a problem for someone using a laptop in a car, or listening to early MP3 players while jogging. The solution was to replace the hard drives with flash memory, which consisted of integrated circuits that could keep their information, even when not powered. Flash memory chips are extremely light-weight, have no moving parts to break, and work perfectly on the move.
The Arrival of the Thumb Drive
This same technical solution was applied to finding a replacement for floppy disks. CD-RWs and Zip™ drives seemed cumbersome for someone who simply wanted to quickly save some important documents to take with them on a business trip; they were too large and too delicate. IBM came out with the first thumb drives in 2000. Encased in a hard plastic shell, and taking advantage of the newly available USB interface, they were ideal to toss in a pocket or bag. Their use caught on quickly, and as the need for portable data storage grew, these little gadgets skyrocketed in popularity and capacity.
Capacity
The capacity of the first IBM DiskOnKey® thumb drive was quite modest at 8 megabytes. Year by year, however, the maximum size grew exponentially. While once these devices were mostly used to carry text documents or a few images, it is now practical to use them for storing large spreadsheets, full-length feature films, and entire music collections.
Thumb Drives vs. Memory Cards
Another competing product is closely related to the thumb drive: the flash memory card. Both use solid state memory, but each has its own advantages and disadvantages. All thumb drives are USB devices, which makes them generally compatible with most desktop and laptop computers. Memory cards, however, are much smaller and come in a greater variety of shapes and formats that make them fit many mobile devices, such as digital cameras, e-readers, and cell phones. These cards are compatible with computers as well, but require the use of a USB card adapter, or a computer with an integrated card reader, which not all computers have. Some people also find that memory cards are so small that they are easily lost when not installed in a device; jump drives, being a little larger, are better suited for carrying around.
Reliability
A flash drive is a relatively reliable storage medium. It is not vulnerable to magnetic fields, and the outer plastic shells protect it well when rattling around in a pocket with keys and spare change. There are limitations, however. Most can survive about 10,000 overwrites, but the USB plugs generally begin to fail after about 1,500 insertions. Furthermore, it is unknown how long the memory itself will last, even if only written once. Even the highest end units only come with a 5-year warranty, and some experts warn against planning to store them for more than about ten years. Beyond that, it is very important not to remove a jump drive while data is being saved to it; otherwise, the entire drive could become unreadable.
Security Concerns
Some feel that thumb drives pose security threats since they are easily concealed. Users could copy proprietary information to them at work, for example, or upload malware from them, all undetected by the system administrator. Likewise, people can easily carry them in or out of the building without arousing suspicion of security guards. On the other hand, they can also help to improve security. System administrators can upload anti-virus software to an infected computer from a thumb drive, for instance, and some modified drives are used as electronic keys.
Design
Through the thumb drive generally comes in a standard size and shape, more and more are being marketed in a variety of forms to fit people's daily lives. Among the simplest ideas are jump drives that double as key chains, or which hook to lanyards that hang from the neck or wrist. Even more clever versions abound, though, including some that are built into bottle openers, cigarette lighters, and pocket knives. Another popular idea is the disguised flash drive. Some are concealed within lipstick tubes, costume jewelry, or even made to look like a pack of chewing gum. Aside from practical concepts, there is a nearly endless list of novelty models given away as promotional trinkets at conferences and marketing events.
AS FEATURED ON:
AS FEATURED ON:

By: Debs (ò‿ó)♪

USB thumb drive.

By: zayedbaloch

USB Drive with cap.

By: Teerapun Fuangtong

Thumb drives replaced the need for bulky zip drives.

By: Iakov Kalinin

The thumb drive replaced floppy disks.