What is a Thumbnail Drive?
A thumbnail drive, also called a thumb drive, flash drive, pen drive, or memory stick, is another name for a Universal Serial Bus (USB) flash drive. It is a type of memory stick that is usually small enough to put into a pocket, making data highly portable. The drive can be used to backup files, transfer data from one computer to another, or in any application where portable memory is useful. Flash drives have become extraordinarily popular among computer users of all levels of experience thanks to their ease of use and affordability.
Flash technology drives the thumb drive, and it is compatible with most computers and operating systems. All the user needs to do is plug the thumbnail drive into the USB port and wait for the computer to recognize it. After the computer sees the drive, the user can transfer files to and from it and remove it when finished.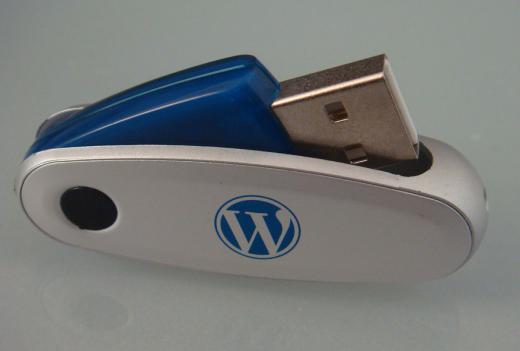 Thumbnail drives are usually built to be very sturdy and are able to stand up to a wide range of conditions including inclement weather, being squeezed in a pocket, or being thrown about with luggage. The data will remain stable unless the drive is unduly abused. The drive can also be written to again and again, just like a regular drive. Unlike floppy discs and compact discs, a thumbnail drive is not a likely to experience surface scratching that could compromise the data.
This type of drive is a more portable alternative to an external hard drive. While a thumbnail drive does not have the capacity of an external drive, it is a far more mobile data storage device. For people who only need small amounts of mobile data at a time, it is probably a better choice than a traditional external hard drive. They are also more durable, because flash drives have no moving parts to be damaged.
In some cases, a thumbnail drive can be used as a booting drive if the main system fails. Users should check to see that the primary system supports USB bootability, and that the drive itself can be used to create a boot disk. Most computers have a utility allowing the user to create a boot disk, which can be written to a flash drive. A thumb drive makes a good alternative to a traditional floppy or compact boot disk because it is not as susceptible to damage.
A thumbnail drive is hot swappable, which means that it can be unplugged while the device is on. However, users should be cautioned to wait until there is no data being written to or taken from the device. If the drive is removed while data transfer occurs, there will be errors, and the device could potentially be damaged.
AS FEATURED ON:
AS FEATURED ON:

By: Debs (ò‿ó)♪

USB thumb drive.

By: Andrea Biraghi

A thumbnail drive.

By: Iakov Kalinin

A thumb drive is a good alternative to the traditional floppy disk.

By: WavebreakmediaMicro

Thumbnail drives can be used to transfer images and other files from one computer to another.