In recent years instant messaging has become a standard form of communication for many people. This communication technique is typically linked with many social networking websites. Short messaging service (SMS) is a form of instant message that is available through most cell phone providers. The SMS language is a special shorthand slang language that is used by the instant messaging community.
The SMS language is vast communication shorthand that contains hundreds of phrases. There are several online dictionaries and directories that outline the complete list of these phrases. These dictionaries are freely available to individuals and provide the necessary information to correctly format SMS messages.
Most of the SMS language can be typed in fewer than six letters. This makes it easier to enter information on a cell phone. Much of the format is based on the first letter of each word within a phrase, but some words are also represented with numbers. An example of a simple text message is OBE, which stands for overcome by events. The number 411 is the number shorthand for information.
Text messaging has become a dangerous problem for drivers because many people are manipulating the SMS language while they drive. Many states have passed laws prohibiting text messaging while operating a motor vehicle. This is typically considered reckless driving and should be avoided.
A new form of popular texting is the sending anonymous messages. With this form of instant messaging the recipient is unaware of who sent the original message. Anonymous SMS is only available on smart phones that have special application. Many Internet instant messaging sites allow anonymous messages but standard cell phone will always include the phone number of the sender.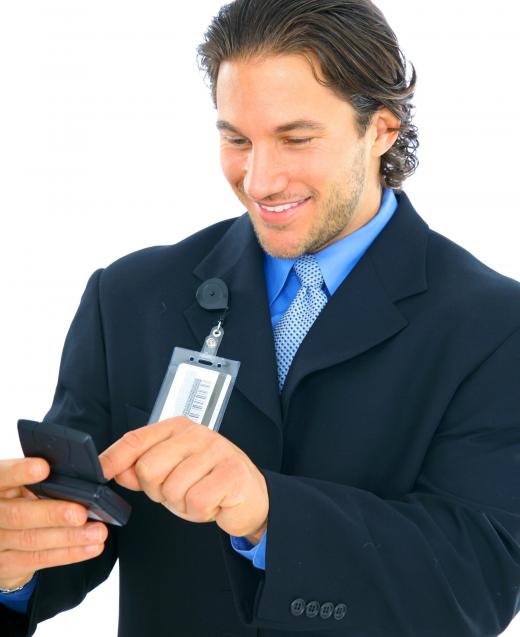 Some advertising companies are beginning to use the SMS language. They have found that SMS marketing is a new domain for advertisement. The mobile marketing association has created guidelines that define the best practices for sending advertising information over mobile devices. This form of marketing has exploded in many countries, which has made this a viable marketing media.
All SMS messages are not pleasant and at times filtering is important. There is a method to block SMS messages from specific individuals. This is a good way to remove unwanted harassment. Most cell phones offer customizable SMS services through online configuration tools. This online process enables custom sounds and filtering by phone number. This makes it easier to determine who is sending the SMS.
AS FEATURED ON:
AS FEATURED ON:

By: Syda Productions

SMS language allows people to exchange text messages through their mobile phones.

By: slasnyi

Anonymous SMS is only available on smart phones.

By: visi.stock

SMS is becoming increasingly more used in professional settings.

By: Nomad_Soul

SMS language includes emoticons.

By: Monkey Business

Bullying and harassment may be conducted using anonymous SMS.

By: Giulio_Fornasar

Many teenagers use text messaging as a major form of communication.

By: Matthew Antonino

Online service may be used to send an SMS message.