What is the Microsoft Office Assistant?
The Microsoft Office Assistant is a version of a help tool included in versions of Microsoft Office beginning with Office 97. The office assistant tool was accompanied by an animated icon that would pop up automatically when the software detected the user could use assistance. The default Office Assistant was an animated paperclip who goes by the name of Clippit.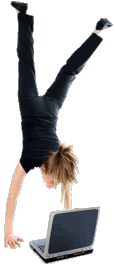 Clippit, the office assistant, is best known for popping up in Word when users would type the words "Dear So-and-so," and Clippit would observe "It looks like you're writing letter. Would you like help?" Users then had the option of selecting "help" or "tell me more," or continuing without help. The Office Assistant also pops up when users attempt to access certain tools for tasks such as creating tables and borders. Clippit has the ability to first appear in shapes such as a star, then reshape into a paperclip. There are also sound effects that accompany Clippit's actions.
Though the office assistant can be changed to other animated images, such as a wizard and a jigsaw puzzle, Clippit remains the best-known office assistant because of the default setting. Users of pirated or shared versions of Microsoft Office may not have the option of changing the default Office Assistant to animate as other characters. The Office Assistant in its original form was omitted from the software starting with Microsoft Office 2007 in exchange for a different type of help tool.
The user-friendliness of the Office Assistant is considered to be debated amongst users with some finding it an annoying aspect of the program and others finding it amusing and occasionally helpful. Users have the option of turning the Office Assistant off if they find it distracting or unhelpful. Due to the popularity of the Office Assistant and the debate over the helpfulness of the tool, it has been parodied since shortly after its arrival. Comedians and television writers have mocked Clippit and it has been a recurring theme on radio and television shows alike.