How Do I Choose the Best Home Desktop Computer?
A home desktop computer can be an investment for a home based business, or it can be used for personal computing and storing important data such as photos and videos at home. It allows users to have Internet access, and serves as one of the main forms of entertainment in many homes. Choosing a home desktop computer is often a difficult task, because there are so many options and variables available to select from. Buyers usually intend to keep a home desktop computer for several years, so durability is often as important as the many features that a PC offers.
The best home desktop computer should have enough storage memory to serve the user's needs. If the buyer takes many family photos and home movies, and has a large collection of MP3s and digital videos, a high amount of memory is necessary. Many desktop computers come equipped with a minimum of 500 GB of memory, which may not be sufficient if the buyer wants to store a wide collection of music and other digital media. Memory can sometimes be upgraded in a PC, although an easier option is to purchase an external hard drive.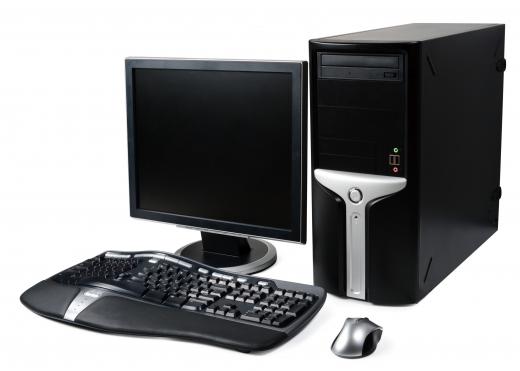 A home desktop computer should have enough RAM to support the applications and programs the user has. A higher amount of RAM is necessary in order to edit videos, run sophisticated video games and carry out other tasks. Computers often come with 2 GB, 4 GB, 6 GB or 8 GB of RAM, and users have the option to upgrade this if they want to.
The graphics card is an often overlooked component in a home desktop computer. A more sophisticated graphics card can allow the user to run a larger and more powerful monitor, stream movies, play games and run multiple applications at once. A computer can be upgraded to run a more powerful graphics card after it's purchased, but a new internal power supply is often required for the computer to be able to run the new card.
Since a home desktop computer is often used for entertainment purposes, it should come equipped with the ability to play the latest types of digital media. Buyers often look for a computer that can run CDs, DVDs and Blu-Ray discs, and the ability to write CDs and DVDs for media storage is often important as well. The best home desktop computer should also come with sufficient USB ports for attaching cameras, video cameras and other peripherals for uploading personal pictures to it.
AS FEATURED ON:
AS FEATURED ON:

By: Dmitriy Melnikov

Before making a purchase, make sure that a computer's technology is up to date.

By: vinsen

Installing additional RAM may help increase computer speed.

By: Oleksiy Mark

A home desktop computer needs enough memory (RAM) to support the user's programs.

By: Alexey Laputin

A good home desktop computer should have a keyboard that is comfortable to use.

By: merydolla

A home desktop computer should have a large enough hard drive for its intended use.