How do I Choose the Best Print Manager Software?
Print manager software helps a computer user choose what he wants to print. By using the software, users are able to print only what is necessary and can avoid wasting printer ink and paper on extra images, document pieces, or website elements contained on a page. In addition to helping to print individual documents, certain print logging utilities may exist to inform office managers or information technology specialists about the printing habits of staff members or patrons.
Printing software can be come in either desktop or browser form. Desktop software can be downloaded onto a computer's hard drive, and browser plug-ins can be installed so that they work in conjunction with a user's browser. Software that is designed to work on a computer's desktop will automatically open when a user attempts to print from an application. Users may be prompted with a preview of the print job and offered the ability to edit the print job by removing unnecessary elements or combining multiple documents. Software that works as a browser plug-in can be manipulated from within the browser and users may be able to remove ads, images, footers, headers, or other expendable parts of a website for a print job.
Features of print manager software can vary from software package to software package. Some common features include the ability to automatically skip over blank pages, combine multiple print jobs, remove excess text and images, delete unnecessary pages, and save and email a customized print job. Users can take advantage of any or all of these features to maximize paper-saving.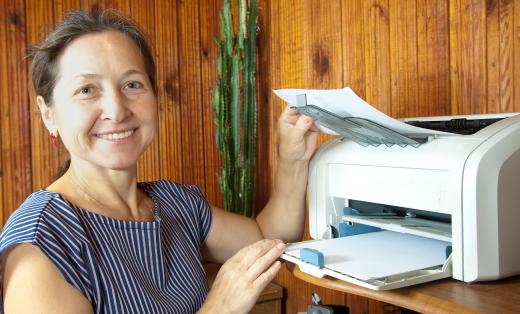 Non-profit organizations, libraries, schools, learning labs, and community technology centers may all benefit from installing and utilizing print manager software. Using this software can help to reduce operational costs and conserve communal resources. This may result in extended use of the facilities. Companies may increase profits simply by employing print manager software as part of their daily operational routines.
In addition, any number of print manager software utilities can be downloaded, installed and used together. For example, one software package may work to block images while another gives previews of documents before they are to be printed. Fortunately, print manager software is usually free or available at a low cost, and discounts may be granted to non-profit or educational organizations. Users should ensure that their computers have the necessary printer drivers installed on them and that they have access to a network or are physically connected to printers. To verify basic functionality, users should print out test documents before downloading the software.
AS FEATURED ON:
AS FEATURED ON:

By: Martinan

Print manager software helps a computer user choose what he or she wants to print.

By: Daria Filiminova

Utilizing print manager software helps a user avoid wasting printer ink and paper.