How do I Convert FLV to VCD?
Adobe® Flash® video is so widespread on the Internet that according to Adobe® only 20% of the available video is not in the Flash® format, FLV. Many video hosting sites have used Flash® video as the standard, and as a result, people often work with, manipulate, and convert Flash® video. VCD (Video CD or Video Compact Disc) is a commonly used all-digital CD format using the MPEG-1 codec. Therefore, people wanting to burn one or more FLV files to disc, often want to convert FLV to VCD.
The first thing you need to do is acquire one or more FLV files. They can be found on YouTube®, as well as Yahoo! Video® and Google Video®. Then you need a converter that handles FLV files and exports to VCD format. One example is FLVsoft®, but only if you have installed the Moyea FLV to Video Converter Pro 2. RiverPast® Video Cleaner with Combined Community Codec Pack (CCCP) is another option.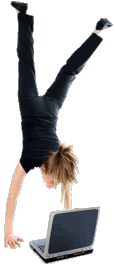 You begin by opening the software application that can convert FLV to VCD and adding one or more FLV files. There is likely to be an "Add Files" command that will allow you to navigate to a file on your hard drive and open it into the computer. You may be required to select FLV as the file type you are seeking. Alternatively, you may be able to drag and drop files onto the converter window. At this point, you may have some editing functions available, allowing you to crop or trim the video, for example, or add a watermark.
Next, you will select the output format. To convert FLV to VCD, look for VCD and/or .DAT, which is the file extension it uses. You may also see a reference to "MPEG-1." In addition, you may see a choice between PAL or PAL/SECAM and NTSC. These are the names of the television broadcast standards.
In general, it is safe to choose NTSC for North America and Japan, while selecting PAL/SECAM for Europe and everywhere else when you convert FLV to VCD. The standards have different dimensions and frame rates. The next step is likely to be "Convert." When you are done, you can burn the file to a CD.
AS FEATURED ON:
AS FEATURED ON:

Woman doing a handstand with a computer