What are the Different Types of CDs?
There are a few types of compact discs (CDs). Some are meant to be used for playback only, while others can be used to record music or data files. There are even some CDs that a person can erase and reuse to record new data. The type of CD a person chooses often depends on the machine in which he intends to use it, as some CDs aren't compatible with certain types of machines.
CDs are thin pieces of plastic that are coated with aluminum and used to store data for use in a variety of devices, including computers and CD players. The main or standard type of CD is called a CD-ROM; ROM means read-only memory. This type of CD is used to store music or data that is added by a manufacturer prior to sale. It can be played back or read by just about any CD player as well as most computers that have CD drives. A consumer cannot use this type of CD to record music or data files; it is not erasable or changeable.
If consumers want to purchase recordable CDs to record music store data files, they usually have some options available to them. One is the CD-R, which is the typical choice for an individual who only wants to add data files or music to a CD once. An individual uses a CD burner, which is a component of many modern computer systems, to record to these discs.
Some recordable CDs are classified as CD+R. This type of disc allows consumers to record music or data to it, but provides nearly twice the amount of space that is available with a CD-R. A CD-RW also has a place among the recordable CDs. This one is a bit different, however, because it allows consumers to erase it and record over it again. Otherwise, it can be used in the same manner as CD-Rs and CD+Rs.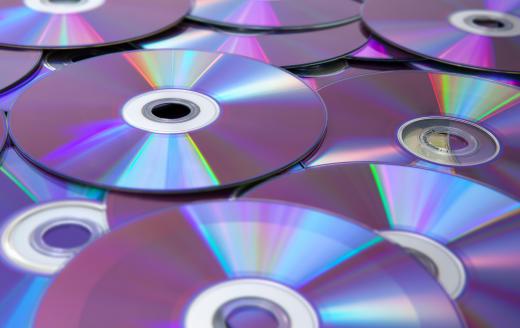 The type of machine an individual needs to play music or use data files depends on the type of CD he is using. An individual can usually play a CD-ROM on most CD audio players and computers as well as some digital video disc (DVD) players that are compatible with this disc type. CD-Rs and CD+Rs work on machines that are marked as digital audio recordable machines, in computer drives marked as compact disc recordable, and in CD and DVD players that are compatible with CD-Rs. When a consumer wants to use a CD-RW, however, he'll need to use a player or CD drive that is specifically compatible with CD-RWs.
AS FEATURED ON:
AS FEATURED ON:

By: thawats

DVD and Blu-ray disks are a special type of compact disk.

By: Georgios Alexandris

CD binders are handy for someone who owns a large collection of CDs.

By: robtek

CD-RWs can be used to record audio files on and then listened to on different disc players.

By: WavebreakmediaMicro

Many computers have drives to play audio and video CDs.

By: StockPhotosArt

Jewel cases may be used to prevent scratching of compact discs.