Network Interface Cards, or NICs, are computer circuit boards that allow computers to connect to various types of networks. These cards can be integrated onto the computers mother board or added to existing hardware using a slot on the motherboard. Most newer computers allow for an integrated use of NIC cards.
Using third party NIC cards can also make troubleshooting a bit easier by allowing a suspect network card to be swapped for another, working network card. Doing this reduces the need to send the whole PC into the manufacturer for repair or a new motherboard.
To connect to a network the computer must have a network card. This allows the computer to communicate with other network hardware. The computer's network card also allows the user to access the network itself to exchange files and other information, such as email, with other computers on the local network and on the Internet.
Computers connecting to networks large and small use some type of network interface card to exchange data. Until recently, NICs were needed primarily in corporate environments where many computers were attached to shared printers, file servers, and other internal resources. With the recent advancements made in broadband technology, the speed of the Internet being delivered to homes has dramatically increased.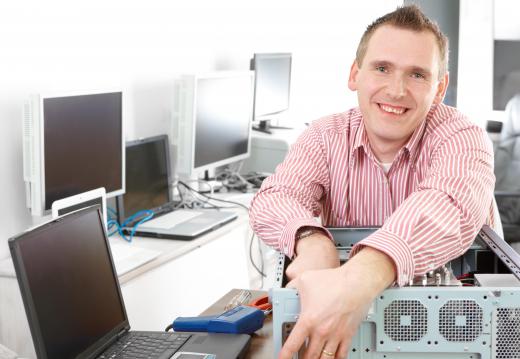 The broadband networks, such as cable or DSL, used in homes require special modems which, in many cases, allow USB connections as well as Ethernet connections for individual computers. The Ethernet port on the broadband modem uses a special cable to connect a computer via its NIC card or another device like a router or switch.
In recent years, networks have evolved again to make use of wireless technology and radio signals. For a computer to connect to a wireless network it will need a wireless radio which serves the purpose of a LAN adapter for the wireless network. The NIC cards for wireless networks look quite different from those used with conventional networking, but operate in a similar fashion.
AS FEATURED ON:
AS FEATURED ON:

By: ambrozinio

NIC cards make it possible to connect a device to a network.

By: Monika Wisniewska

A NIC card can be easily installed by those who are familiar with computer hardware.