What are the Best Tips for Internet Research?
The Internet is a popular as well as powerful research tool as it can access all types of information from anywhere in the world. Internet marketing research or academic research can be accessed in seconds. Starting with a clear idea of exactly what type of information is needed can make the process of doing Internet research quick and efficient.
Search engines and directories are the two kinds of Internet research organizers and these are best used for accessing certain types of information. For instance, when researching a general topic such as botany with the intent of finding a wide range of information on the subject from many different sources, directories tend to work best. An Internet directory is categorized by subject and directories are on the Deep Web which can't be accessed with a regular web crawler or regular search engines. A Deep Web search engine such as CloserLookSearch can access academic or library databases by topics that are run through subscriptions. The Deep Web, which is also called the hidden or invisible Web or Deepnet, refers to everything beyond the search engine accessed surface Web.
If the intent to research the Internet is to answer a specific question, especially if different topics are involved such as looking for the best home based businesses, then using search engines on the surface Web is usually sufficient. It's important to understand the difference between objective information and opinions although both can be helpful when conducting research to answer questions on a variety of topics. Government websites and informational sites where authors and editors are identified by their background and credentials tend to be the most trustworthy. Press releases are not suitable for most Internet research as they are written for promotional purposes. Understanding bias and the reason why certain information is posted is important.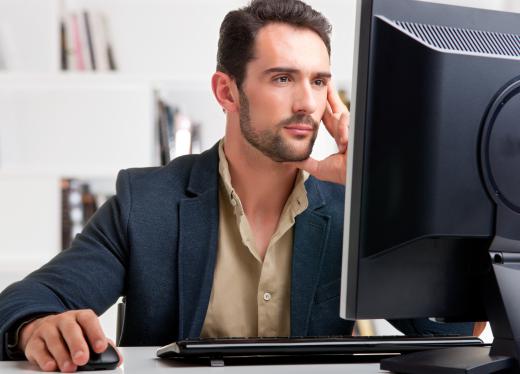 One of the best tips for conducting ongoing Internet research is to keep favorite research sites in the Links toolbar by going to View then Toolbars then Links. When researching a variety of sources at once, many windows can be open rather than just having one Internet research source in one window. Any mistakes found during research should be reported to the website owner or editor so the information can be updated.
AS FEATURED ON:
AS FEATURED ON:

By: goodluz

The internet can be invaluable when researching.

By: ruigsantos

Using directories and search engines are a good way to conduct successful internet research.

By: Tyler Olson

Multi-tasking skills are useful when researching information on the Internet for a client.

By: Syda Productions

It's important to write down websites and other useful information when conducting Internet research so it can be easily called upon later.