What are the Different Antenna Types?
An antenna, or aerial, is a device to send or receive signals. Antenna comes from a Latin word meaning "sail yard," and it has two plurals: antennae and antennas. There are many antenna types and many ways of categorizing them.
The two major antenna types that we first learn about and many people learn to distinguish as children are the antennae that are a body part for some animals on the one hand, as distinguished from all the antenna types that are made by people on the other hand. Many people are familiar with insect antennae, but crustaceans—including the lobster—and myriapods have them, too. For animals, antennae function as a sensory organ. Antennas made by people are often metal and have many different designs.
The second major categorical division of antenna types is between those that transmit signals, known as a transmitting antennas, and those that receive signals, called receiving antennas. It is also possible to have antennas that are made to both transmit and receive. Usually, transmitting antennas handle a good deal more electrical energy than receiving antennas.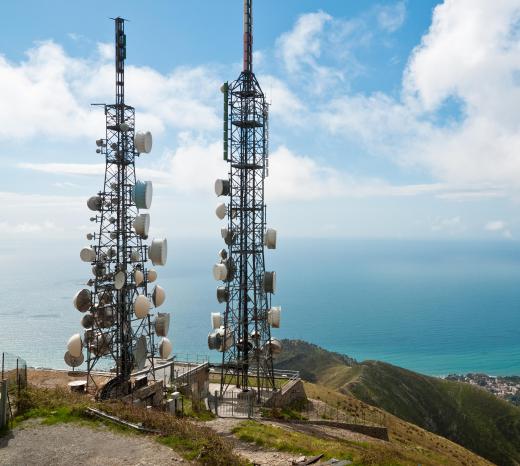 Antenna types can also be used to differentiate antennas for radio, television, and radar systems. Because antennas can be built for transmission of different frequencies, another way to categorize antenna types is by their frequency. For radio antennas, it's important to know whether they are built for, say, frequency modulation (FM) broadcasting at 88–108 MHz (megahertz) or amplitude modulation (AM) broadcasting at 535-1605 kHz (kilohertz). For television antennas, one distinguishes between Ultra High Frequency (UHF) antennas, and Very High Frequency (VHF) antennas, or antennas that pick up both.
Stores that sell antennas categorize antenna types in terms of customers' needs. The range of antennas can be categorized as short, medium, or long. For customers buying a television antenna, the decision is dependent on how close they are to the transmitting towers that they wish to pick up a signal from. If the range is well matched to the distance, it will help avoid the antenna picking up unwanted signals.
Location is another way of looking at antenna type. Antennas can be made for indoor installation, outdoor installation, or attic installation. Indoor antennas are easy to install, but usually do not have the elevation to provide the best signal, particularly for customers who are far from the transmission. It used to be that outdoor antennas were primarily made for rooftops, but more are being designed to mount on the side of a house, or on a pole or deck. The attic can be a useful installation point for those who do not want their antenna inside or outside for aesthetic or other reasons.
Another set of antenna types is differentiated by style. Style can speak to the antennas appearance in terms of design. It can also address whether the antenna is directional and gather signals from a central location or whether it is multidirectional, seeking signals from towers transmitting from different locations.
AS FEATURED ON:
AS FEATURED ON:

By: evegenesis

Myriapods, like centipedes, have antennae.

By: itestro

A digital TV signal can usually reach set antennas up to 70 miles away from broadcast towers.

By: taweepat

Antennas can be made for indoor, outdoor or attic installation.

By: Mick Talbot

Myriapods like symphylans and pauropods have antennas.