What are the Different Types of Mobile Phone Operating Systems?
There are many different types of mobile phone operating system, and the speed with which the field changes means that the options available at one precise date aren't necessarily the same choices a consumer will have five or ten years later. In general, though, the mobile space is dominated by two main categories. Brand-specific systems like BlackBerry® OS, Windows Mobile®, and Apple®'s iOS work only on devices made for and owned by the system's creator, or else on devices that have been specifically authorized to run the system. Open source platforms like Symbian and Linux, on the other hand, tend to be much freer and more flexible.
BlackBerry®
The proprietary BlackBerry® OS was one of the first types of mobile phone operating systems, and is the only system that will work on BlackBerry® devices. Though it has adapted to include some media and entertainment features, it is designed primarily for business applications. Messaging, e-mail, and communication tools tend to be this system's strengths, and it is often described as functional more than personal or appearance-driven.
iOS
Apple® also uses a unique operating system, known as iOS, on its devices including the iPhone, iPad, and iPod Touch. The system was designed and implemented by the company's former president and chief executive officer, Steve Jobs. It is entirely closed-source, and Apple® acts as the final decision maker when it comes to the sorts of software the platform will and will not support. Most mobile applications, or "apps," were originally designed for the iOS system, though, and Apple® product owners often have some of the most robust choices when it comes to paid downloads and add-ons.
Windows Mobile®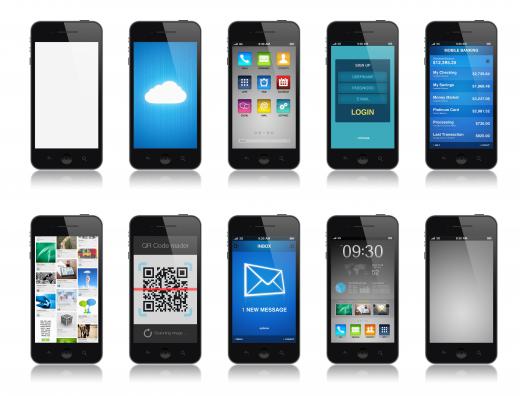 Windows Mobile®, also known as Windows Phone®, is the mobile phone version of Microsoft®'s core operating system. It is easily compatible with many Windows® programs such as Microsoft Office®, and as a result it is a popular choice for businesspeople. Windows Mobile was originally designed for Microsoft®'s line of Pocket PCs before being adapted for use in phones.
The Microsoft® operating system is usually seen as one of the most flexible in the closed-source family simply because it is available on several types of phones. Unlike the BlackBerry® and Apple® software that typically only come installed on phones also made by those brands, Microsoft® sells its Windows® OS to a number of different hardware manufacturers. As such, many brands and styles of phone run it.
Other Proprietary Models
While BlackBerry®, Apple®, and Microsoft® are widely regarded as industry leaders in the mobile space, they are by no means the only players. A number of different phones run on other closed, brand-specific systems. Palm®'s webOS, bada® from Samsung®, and Nokia®'s Maemo® are just a few examples. Given the ever-changing nature of the technology industry, even more are bound to show up in time.
Open Source Platforms
An operating system that is based on "open source" software is one that is generally free for anyone to use, change, or modify. The basic model here is one of unhindered innovation. Anyone can develop apps for an OS in this category, and any company can release a phone using it. Linux is one of the most popular open source systems and it is used in a number of mobile settings, perhaps most notably as the base for Google®'s Android® phone.
Symbian is another example. Nokia® brand phones were some of the first to adapt and make wide use of Symbian technology, but phones by Sharp®, Fujitsu®, Sony® and other companies have the operating system installed as well. Though it is used by companies around the world, it is not traditionally considered to be particularly advanced. As such it is often best suited for more "standard" devices, which is to say, not full-featured smart phones.
Industry Changes
Mobile development seems to change every few years, if not every few months. The technology fueling these shifts and evolutions necessarily adapts, as well. The general distinctions of "brand based" and "open source" are likely to remain the primary drivers of operating systems going forward, but what those systems will look like, how they will work, and what they will be capable of as time goes by remains to be seen.
AS FEATURED ON:
AS FEATURED ON:

By: Google

The Android logo represents Android, which is a popular type of smartphone operating system.

By: Celestine Chua

Apple's Steve Jobs was a major force behind the development of the iPhone.

By: bloomua

Apple's iPhone uses the iOS operating system.

By: Felix Mizioznikov

BlackBerry phones, which have a reputation of being addictive, run on BlackBerry OS.