What are the Different Types of Tracking Software?
Tracking software — that is, software that is installed onto a device to relay back information about that device's location or history — is becoming increasingly advanced as technology develops. The first tracking software programs were designed to monitor individual Internet access, keeping a log of sites visited and time spent online. These sorts of software programs remain popular, but Internet history is no longer the only kind of tracking that is done. Content-tracking programs keep logs of keystrokes and can record substantive entries into web sites and applications, for instance. On mobile devices, the software can be used to track, among other things, location, movement, and motion.
Most tracking software is Internet-based, which means that it operates either over or through an online Web browser. Internet protocol, or IP, tracking software is the most straightforward example. When a computer connects to the Internet, it is assigned a temporary IP address, typically composed of numbers, that serves as that computer's online identifier. An IP tracking program installed on the computer will monitor where that address is seen online, and will track all web use patterns associated with it.
Time tracking software works similarly. Usually, time tracking monitors the amount of time a specific user spends online, and how much time that user spends on any given site. User-based tracking is usually done based on log-in identification, rather than IP identification.
IP tracking programs can either be intentionally installed on a computer by someone like a parent or a spouse, or they can be surreptitiously downloaded from a web site, usually without the computer user's knowledge or consent. Surreptitious downloads are generally designed to capture sensitive information users may type into the Internet, such as e-mail passwords or bank account information. Most jurisdictions have strict laws prohibiting the download of any tracking software without the computer owner's direct consent. These laws can be hard to enforce when the downloads may not be noticed until serious damage has been done, however.
Computer owners may also elect to install tracking programs onto portable computer equipment that is designed to track physical location in case of loss or theft. In this case, the software lies dormant on a computer until the device is reported missing; then, the software is remotely activated, and can provide immediate location tracking. This kind of tracking capability is popular among corporations who issue laptops and palm computers to employees, particularly when those who deal with sensitive personal or financial information. Most location tracking software is based on GPS tracking software technology, which means that the device does not have to be connected to the Internet or even turned on in most instances in order for tracking to work.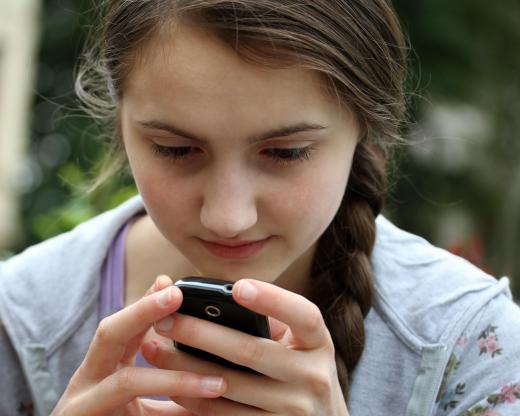 GPS tracking programs are also popular in cell phones and other portable technological devices. Most smart phones come equipped with optional motion tracking software, but in many jurisdictions this software can only be activated by emergency personnel, such as police or medical teams, in case of crisis. Still, some commercially-available programs and applications allow phone users to download tracking programs that can either keep track of the phone's location in space, or monitor its usage, including numbers dialed, text messages sent, and websites visited.
AS FEATURED ON:
AS FEATURED ON:

By: Syda Productions

Tracking software might be used to locate a stolen laptop.

By: Startouching

GPS can be used to locate a missing phone.

By: denys_kuvaiev

Tracking software may be downloaded to a cell phone using an app.

By: CandyBox Images

Tracking software can help direct emergency personnel where they are needed.