What is a Compact Disc Recorder?
A compact disc recorder is a device that can be used to put information on a recordable compact disc. This may include data in the form of computer files, or video or audio clips. The most common place to find a compact disc recorder is as part of a computer package, but there are standalone models as well that can be connected to a video or audio source.
Depending on the file format, the recording from a compact disc recorder may be readable by a number of different devices. Common uses include CD readers, such as those on computers, or CD players, normally used in sound systems. These are found in a variety of settings and are mainly meant for the playing of audio information. In some cases, some CD players may not be able to read recordings from certain types of recorders. Therefore, it is important that a compact disc recorder write information in a format compatible with the intended player.
In addition to being able to write information on a compact disc recorder, the device is also usually capable of reading the information as well. Thus, it is a dual use tool. However, the speed it reads and the speed it records may be quite different. In addition to being able to read CDs, some compact disc recorders may also be able to read DVDs.
In fact, as technology continues to evolve, most compact disc recorders now also function as DVD players and recorders. In some cases, this may be a more expensive option, but it often comes standard. The computer is able to detect whether the disc is a recordable CD or DVD, and automatically change its format to fit the media type.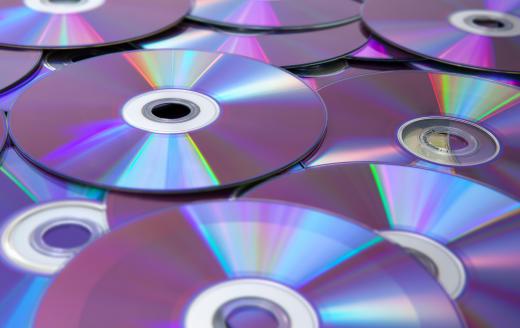 One of the main factors of primary concern to many consumers is the speed of the compact disc recorder. For example, if a recorder is rated at a read/write speed of 24 times, it will be twice as fast as one advertised as 12 times. For those who write a considerable amount of information to compact disc, this may be a significant time savings. The faster the speed of the recorder - the more it will generally cost.
For those using a compact disc recorder with a computer, there may be a couple of options to choose from. An internal recorder is included with nearly all computers. For those who do not have one, or have found the recorder no longer functions, or is not fast enough, an external recorder is also an option. In most cases, this connects to the computer via a USB connection.
AS FEATURED ON:
AS FEATURED ON:

By: dlrz4114

Recordable compact discs can be personalized.

By: robtek

Rewritable compact discs can have the information they store altered using a compact disc recorder.

By: StockPhotosArt

Jewel cases may be used to prevent scratching of compact discs.