A frame grabber is an electronic device that can be connected to a computer, typically to record either still or video images. The earliest devices of this type had enough memory to record a single still image, which meant they could be used to capture one frame from a video, hence their name. More modern devices, however, can have much more memory that allows them to not only grab still frames but also video clips. Typically, a frame grabber is used to capture video and images displayed through a computer, which can then be used for a number of different reasons.
The primary purpose of a frame grabber is to allow someone using a computer to more easily and effectively capture images or video on that machine. This is typically done as someone is viewing a video on the computer, and he or she can then use the device to "grab" elements of that video. In the past, a frame grabber was usually able to capture a single still frame from a video. This allowed someone to easily take one shot out of a recording, and then use that for image manipulation, enhancement, or other purposes.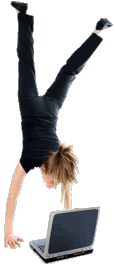 Improvements in technology have allowed companies to create a wide range of frame grabber models that can be used to capture numerous images or entire videos. This allows someone to use a computer with such a device installed onto it, and to watch streaming video while using the hardware to capture stills and video clips from it. Someone can also use a frame grabber to isolate a single image from a video, and then use that frame for manipulation or research. A news broadcast, for example, can be digitized and then played on a computer with this device, allowing someone to take a frame from the broadcast and enhance it.
There are also a number of software programs that can be used as a frame grabber, though these may have limitations that do not restrict hardware. Much like a video card, frame grabbing devices typically have internal memory that can allow someone to capture video much more effectively than he or she otherwise could on a computer. Software grabbers are limited by the hardware on a computer, and so machines with small amounts of video memory may not be able to use such a program very well. A hardware frame grabber can also have internal storage, allowing someone to capture an image on the device itself, and more easily transfer it over to another machine.
AS FEATURED ON:
AS FEATURED ON:

Woman doing a handstand with a computer