What is a Hard Drive Caddy?
A hard drive caddy is a device that can be installed inside of a computer case or tower which then allows properly equipped hard drives to be easily inserted into and removed from the case. It typically consists of two or more rails connected to either side of the inside of the computer tower, often in a slot already designed for a computer hard drive to be installed. One or more computer hard drives can then be equipped with similar rails and small wheels that allow the drive to be inserted into the tower and slide along the rails of the hard drive caddy inside the case.
Though in general a hard drive caddy usually refers to the rails within a computer case, it can technically refer to an entire kit used to add the device to the inside of the computer and to properly prepare one or more hard drives for use with the caddy. Further modification of the computer case and the hard drives may also be necessary; this depends on what is included with the hard drive caddy. For example, some kits may provide hardware to make it easy to not only insert a hard drive, but to also make physical connection to the connectors running to the computer's motherboard easier as well.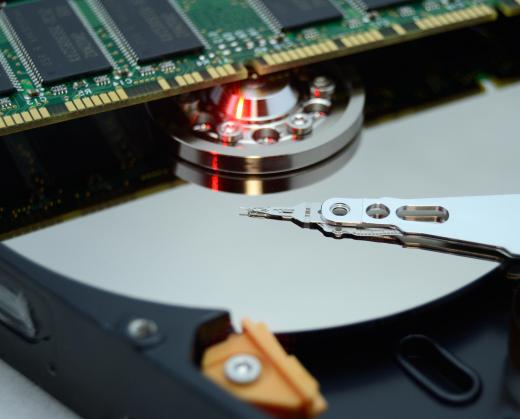 Other hard drive caddy kits may only include the rails and will require other hardware to also make connection to the motherboard easier. The rails used by a hard drive caddy are typically similar to what is seen for sliding drawers inside cabinets and desks, or for those used to make a sliding shelf for a keyboard on a computer desk. A user can typically insert the hard drive into the computer along the rails, and it should slide quite easily into place. Connections between the hard drive and the motherboard can then be made easier with stable connectors that insert right into the back of the hard drive.
The use of a hard drive caddy can be quite effective for anyone who may need to switch out multiple hard drives while using a computer. This should not usually be done with a hard drive that has the operating system (OS) of the computer on it, but is instead typically best for additional storage drives. The use of a hard drive caddy was especially popular before advances in technology made external hard drives and removable memory sticks less expensive and more reliable. As these other devices have become more prevalent, however, the use of this type of caddy has been relegated to more specialized applications and industries.
AS FEATURED ON:
AS FEATURED ON:

By: naraz

A hard drive caddy makes it possible to easily switch between hard drives.

By: wellphoto

A hard drive caddy may be effective for individuals who need to switch out multiple hard drives while using a computer.

By: Tomasz Zajda

Solid-state hard drives start and operate more quickly than traditional computer hard drives.