What Should I Know About Rent to Own Computers?
Rent to own computers may seem like attractive deals, especially if you have poor credit and can't buy a computer on credit at the moment. Most rent to own locations will work with people with bad credit, but you can expect that you'll pay for this additional feature. There actually may be a few good reasons to consider rent to own computers, but these circumstances don't tend to apply to most customers.The decision to lease or rent to own a computer may be a good option if you need a computer for a very short duration of time, a month or two perhaps while you work at a temporary office. Make sure you check out any extra fees that the company charges. For example, ensure that you will not have to pay extra fees if you return the computer early.
In most cases, consumers look to rent to own computers because they don't have good credit or the ready cash to purchase a computer. Payments for these computers may be structured over five years and you should note that when you have made all payments on a rent to own computer, you will have paid approximately double to triple the price of other purchase methods. For instance, expect rent to own computers that would retail for about $1000 US Dollars (USD) to cost you at least $2000 and possibly up to $3000 USD.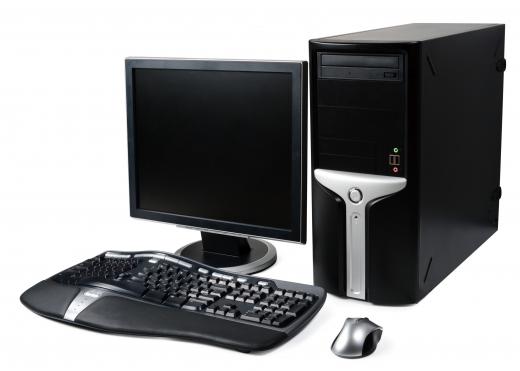 Some people do see certain advantages with rent to own computers. Many companies have replacement offers if the computer ceases to function. The shelf life of many computers is not that great, and they can have problems within a year or two of purchase. Some argue that if you are purchasing a rent to own computer, you're at least buying some safety in case something goes wrong with the computer. However, it is good to remember that you can also buy warranties and extended warranties when you purchase a new computer. The warranties may be pricey,but in the end, you may still pay more for the rent to own option.
Another consideration is how much you'll pay a month. Some companies look like they offer astonishingly low prices, but when you get to the store you find out the price offered is by week and not by month. If you're going to pay $100 USD or so as a monthly fee, consider saving this amount for three to four months. You may be able to purchase an inexpensive new computer, or a good quality, used computer for what you'd end up paying four months in "rent" of a computer.
For most people, getting a rent to own computer is costly, and in the end much more costly than alternatives. If you are really strapped for cash, look at sites like craigslist for people who may be giving away computers or selling them at inexpensive prices. Exploring other options can help tide you over while you save money to purchase a computer.
AS FEATURED ON:
AS FEATURED ON:

By: Dmitriy Melnikov

A desktop personal computer.

By: nattstudio

A laptop computer.

By: .shock

Rent to own computers often come with parts replacement or repair options.