A LAN adapter is a device used to allow a computer to interface with a network. Many computers may have some sort of LAN adapter already installed, but others may require a special installation, which is accomplished by adding a network interface card to the system or possibly connecting the adapter to a USB port.
Most networks that are used in an office or home environment are known as local area networks (LANs). This type of network is one used over a limited geographic area. Most of the time, the network goes no further than the building which houses its main components, though that is not always the case. A LAN adapter is simply one that is able to access this type of network.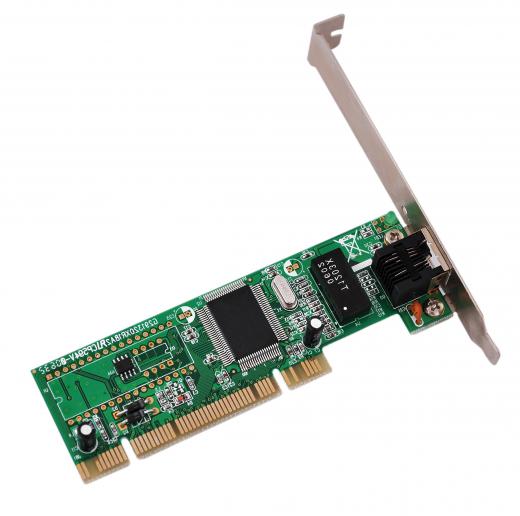 A LAN adapter can be used with a wireless or wired network, though when purchasing on, it is important to understand what type of network and connection is needed. In most cases, a wireless adapter cannot be used for a wired network and vice versa. Those needing an adapter but unsure of the type should consult their network administrators for more information.
In many cases, a wired LAN adapter is used for Ethernet connections, one of the fastest and most reliable forms of wired networks. Because of their performance and security, they are often used in office or business environments.
Most home users, and some business environments, make use of a wireless LAN. These are often very easy to set up, require no line of sight or wiring, and can be connected through a relatively easy installation process. In many cases, home users may prefer a LAN adapter with the capability of being plugged into the USB port, simply because its installation requires no major expertise. It simply plugs into the back of the computer.
For those buying an internal LAN adapter, the installation process can be a little more complex, but still is within the capability of most computer users. It normally requires opening the case and plugging the card into an expansion slot. Depending on the operating system and type of adapter, additional software, often included with the computer hardware, may be required to ensure proper operation.
AS FEATURED ON:
AS FEATURED ON:

A LAN adapter.

By: Christa Eder

LAN adapters are frequently used for ethernet connections in business environments.

By: ambrozinio

Network cable testers are frequently used to troubleshoot issues with a LAN connection.

By: Monika Wisniewska

A LAN adapter can be easily installed by those who are familiar with computer hardware.