What is a PS2® Network Adapter?
Used with the Playstation 2™ (PS2™) gaming system, a PS2™ network adapter is a piece of hardware that enables a Playstation 2™ gaming console to connect to a network. This type of adapter enables a PS2™ user to engage in multiplayer interactive gaming with a player on another PS2™ console, which lets the user play against another player online. The Playstation 2™ is the first version of the Playstation™ video game console to offer the option of network play.
A PS2™ network adapter connects a user to a network, either a local area network (LAN) or the Internet, to play interactive games with other users who are connected to the same network. Playstation™ games with network gaming capabilities often have servers online where gamers can meet and play using their PS2™ network adapter hardware. Any text entry inputs are filled using a virtual keyboard on the PS2™ which is navigated using the console controller. To make PS2™ network connectivity easier to navigate, some users connect a universal serial bus (USB) keyboard to the PS2™ for faster and easier text entry.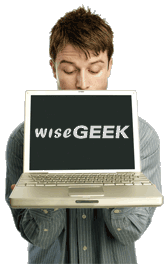 To prepare for use, the PS2™ network adapter needs to be configured using the included PS2™ network adapter configuration disk to run network-enabled games on the Playstation 2™. The configuration disk helps a user specify his connection information so the PS2™ can get on the network. Network configuration settings include information about the router, modem and Internet service provider (ISP).
Though certain Playstation 2™ consoles come with the PS2™ network adapter already installed, it is a standalone piece of hardware that can be bought separately and installed into the expansion bay on the Playstation 2™. An expansion bay is a place left in the console in which a piece up upgrade hardware like a network adapter or hard disk drive (HDD) can be installed. Unless it is for the slimline version of the Playstation 2™, a PS2™ network adapter can also be connected to a hard drive with integrated drive electronics (IDE) technology. An IDE hard drive can also be called a parallel advanced technology attachment (PATA) drive, and can be compared with the newer and more common serial advanced technology attachment (SATA) hard drive technology.
A Playstation 2™ is the second Playstation™ console released by Sony. It originally came out in the year 2000, after the first generation Playstation™ and before the Playstation 3® video game consoles. 1994 saw the release of the original Playstation™ console, also known as PS, which did not have a network adapter. Playstation 3® console came with network capabilities already included. In the computer world, a network adapter can also be called a network card. For Playstation 3® users, a network card is a prepaid card, much like a gift card, that is used to buy objects in the Playstation™ stores.
AS FEATURED ON:
AS FEATURED ON:

Man holding computer