What is a Switch Network Diagram?
A switch network diagram illustrates the use of a switch on a network in a home environment. The usual diagram includes representations of the switch, desktop computers or laptops, the Internet, and other devices such as printers, game consoles and other networks. It is a simple diagram that focuses on the connections of a network and how the connected devices interact with each other. A very effective switch network diagram is something that cleanly shows the devices and their connections as clearly and as simple as possible.
The central device of this simple representation of a network design is the ethernet switch, which is sometimes called the ethernet hub. An ethernet switch is a device capable of automatically dividing a network into several segments. A switch network diagram shows how an ethernet switch can make it possible for multiple computers — desktop or laptop — to network with other devices and each other. Usually, an ethernet switch can support up to four connections from various types of computers and network-capable devices.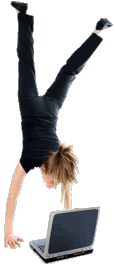 Designing a network using a switch network diagram may not work at times because of the limitation in connections. This can usually be remedied by removing optional network components or devices such as games consoles, Internet access, scanners, and even printers. Adding another ethernet switch is frequently necessary in order to accommodate these extra or optional devices.
The main drawback of using an ethernet switch is that all computers that are connected to it should have a functioning ethernet network adapter. Another drawback of using an ethernet switch is that in order for it to connect to the Internet, it has to be connected to a computer that is designated to control Internet access for all the other computers in the network. This is often an important thing to consider in creating or designing a switch network diagram.
Network diagrams can come in the form of tree diagrams or flow diagrams. A switch network diagram cannot be really classified as a sub-class of either tree diagrams or flow diagrams. This is because its connections do not have a clear structure, especially if multiple ethernet switches and devices are involved. To create network diagrams, including a switch network diagram, there are available software applications that can be purchased online. These applications can assist users in representing a network design in a clean and elegant manner and style that people can easily understand.
AS FEATURED ON:
AS FEATURED ON:

Woman doing a handstand with a computer