AdWords is the premier advertising system run by one of the world's largest websites, Google™. A major source of revenue for the company, AdWords allows advertisers to offer links to their own sites. Using related keyword searches, simple site descriptions, and a specialized section of page space on Google™ sites, AdWords is meant to increase website traffic for business owners all while simultaneously making money for the parent company.
The program was launched in 2000 with about 350 businesses participating. The basic model allows advertisers to make a bid with a maximum amount paid per click for the ad. Advertisers enter keywords related to their services, and the ad will appear under a sidebar called "sponsored ads" should any related keywords be searched. The advertiser typically pays only if the ad is clicked on, although position on the sponsored list and likelihood of the ad appearing may be determined by overall budget and relative popularity of the advertiser's site.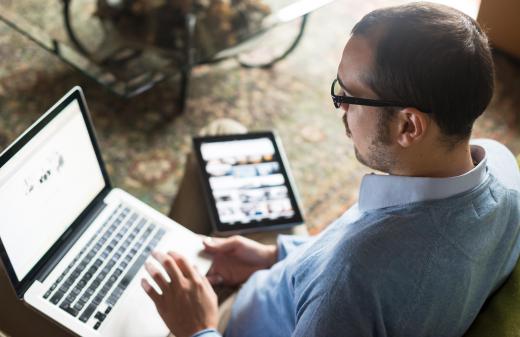 AdWords is meant to be a fast, easy way to increase web traffic, especially for small businesses without large advertising budgets. AdWords accounts are set up in a few steps and can be paid for by online credit card transactions. The program even features an option to have Google™ design the business's website for companies that are setting up both an online site and its advertising simultaneously.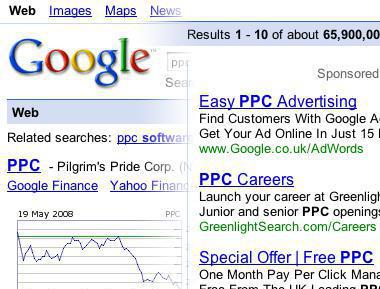 As partnerships and mergers have increased, the program can now give users advertising space on several websites considered to be partners of Google™. This can benefit both the parent company and the advertisers, by making optimum use of available web space. Not only can the advertiser broaden its audience of potential viewers, Google™ increases its chance of potential payment by placing the ads on numerous pages.
The success of AdWords must be considered on two levels. For Google™, the program is clearly a success. Profits for the website have grown enormously since the launch of the program in 2000, with 2008 revenues landing at more than $21 million US Dollars (USD). For the businesses that advertise using the program, there are mixed results. While some users report tremendously increased volume and sales, others suggest that there are flaws within the program that may benefit Google™ but scam the user.
One major complaint is that there is no available information about competitor bids that affect a website's ranking with Google™. Since a business can't know what other businesses are paying, its owners have no idea whether they should raise their bid or how much to do so. Another complaint suggests that since Google™ gets paid per click, the company does not care to take severe countermeasures against fraudulent behavior meant to give the appearance of increased traffic.
In order to measure results, an advertising company may want to obtain a few months of data before determining the effectiveness of the program. If website profits and site traffic has increased enough to offset the per click payment, AdWords may be considered a successful tool for those advertising.
AS FEATURED ON:
AS FEATURED ON:

By: Eugenio Marongiu

Google™ AdWords is meant to increase website traffic for business owners all while simultaneously making money for the parent company.

Google's AdWords is one of the most well-known examples of keyword advertising.