MPEG-1, Layer 3 (MP3) is a standard for digital audio compression that has been defined by the Moving Picture Experts Group (MPEG). An MP3 file is an audio file that has been compressed using this standard. Strictly speaking, an MP3 player is an electronic device that is made especially for playing these files. In a general sense, however, any electronic device for playing digital audio files might be referred to as an MP3 player, regardless of the actual type of digital files that it plays.
Sizes and Memory
MP3 players come in many sizes and storage capacities, but they typically are portable devices that are small enough to fit easily in the user's hand. Most have enough memory to store hundreds or even thousands of digital audio files, which usually are songs. The files usually are placed in an MP3 player's memory by connecting it to a computer and transferring the files to the device. Some advanced models of MP3 players, however, might allow the user to download the files directly from the Internet.
The smallest MP3 players use a type of memory known as flash. Flash is very compact and uses very little power, allowing for extremely small designs with long battery life. The limitation of flash-based MP3 players is that they do not have a great deal of storage capacity. For larger storage needs, hard disk-based MP3 players were developed. These can have storage capacities of more than 10,000 songs, but they must be larger than flash-based players and generally are more expensive.
Features and Accessories
Many MP3 players have small screens that tell the user the name of the song and other information about it. The screen also might serve as a user interface, allowing the user to execute commands or choose various options. Some of these devices even have touchscreens, which allow their users to tap directly on the screens to make choices or execute commands instead of pressing buttons elsewhere on the devices. Most of these devices come with earphones, and some models have built-in speakers that allow users to listen to MP3s without having to wear earphones.
Digital Hubs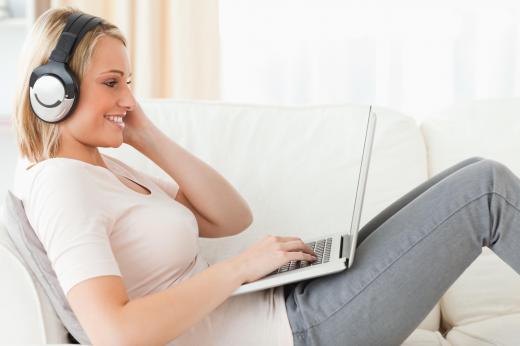 Some non-portable MP3 players also have been developed. Sometimes referred to as digital hubs or media centers, these devices are crosses between stereo components and computers. With network connections — often wireless — they are able to access MP3s and other digital content stored on computers on the network. With a full array of standard audiovisual connections, they are able to integrate with home entertainment systems. These devices typically come with remote controls and might use televisions as display screens for menus and playback information.
One advantage of these digital hubs is that more than one device can access the files at the same time. All of the files can be stored in the hub, and MP3 players that have wireless connectivity can access the files. This essentially turns an MP3 collection into a music library that has multiple copies of every song.
AS FEATURED ON:
AS FEATURED ON:

Handheld MP3 player with earbud headphones.

By: Popova Olga

Most MP3 players come with earphones.

By: Dominator

Any electronic device for playing digital audio files might be referred to as an MP3 player.

By: WavebreakmediaMicro

Music may be downloaded onto a personal computer before being transferred to an MP3 player.