Advanced Technology Attachment (ATA) is an interface for internal computer storage components. ATA-6 is a specification within the ATA family that denotes a particular type of ATA with corresponding data transfer speeds. The conventional ATA cable is recognizable as a very wide, flat cable with 40 or 80 wires running parallel in a ribboned sheath. Connectors have 40-pins that attach to a device such as a hard disk drive or CD-ROM. The opposite end of the cable attaches to an Enhanced Integrated Device Electronics (EIDE) interface on the motherboard or host card.
ATA has advanced through the years to bring better data transfer speeds. As it improves, each new standard is attributed a numeral to differentiate it from previous standards. As of 2006, there are eight varieties of ATA.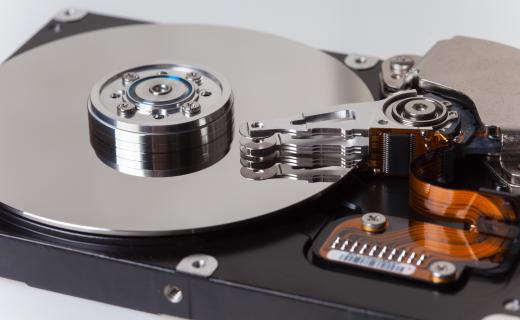 ATA-6 represents the sixth generation of the ATA interface standard. ATA-6 is also known as Ultra ATA/100 for its theoretical transfer speed of 100 megabytes per second (mbps). Another name is ATA Packet Interface (ATAPI) 6, which is the ATA-6 specification for additional commands that pertain to CD-ROM function.
Ultra Direct Memory Access (UDMA)-5 is another term you'll see associated with ATA-6. UDMA-5 denotes the type of memory addressing used in ATA-6, which includes 48-bit Logical Block Addressing (LBA). LBA is a feature written into the Basic Input/Output System (BIOS) chipset of motherboards. ATA-6 utilizes the 48-bit version of the LBA mapping scheme for faster data access. LBA mapping has existed since ATA-2, but at that time, a 28-bit LBA specification was in use.
As hard disks have grown in capacity, mapping schemes have had to keep pace. ATA-1 supported hard drives up to 137 megabytes. ATA-6 introduced support for drives up to 144 petabytes. That's about one million gigabytes.
Newer ATA standards changed from a parallel data transfer scheme to serial data transfer. Serial ATA (SATA) uses narrower 4-wire cables and is a preferred interface with faster data transfer speeds. ATA-7 introduced SATA, while ATA-8 is designated for use with hybrid drives that feature internal flash memory cache.
Hard drives are built to conform to particular ATA specifications. Newer drives are built to newer ATA standards. ATA-6 represents the last generation of hard drives and CD-ROM/DVD players built to use conventional parallel ATA (PATA). If purchasing an older drive, look for one that is ATA-6 compliant to get the fastest drive in that class. Otherwise, opt for the newer and even faster SATA drives, assuming your motherboard is SATA-compatible.
AS FEATURED ON:
AS FEATURED ON:

By: merydolla

ATA-6 is used to interface with computer hard drives.