External Serial Advanced Technology Attachment or eSATA is an external interface for SATA technologies. It competes with FireWire 400 and universal serial bus (USB) 2.0 to provide fast data transfer speeds for external storage devices.
SATA replaced ATA legacy technology as the next generation internal bus interface for hard drives. The SATA interface is more streamlined than ATA and provides serial architecture for greater speed than the older parallel technology. eSATA cables are narrow and can be up to 6.56 feet (2 meters) in length, whereas parallel cables are much wider and limited to a length of 18 inches (45.7 cm). With eSATA, the speed of SATA expands to encompass exterior storage solutions.
While eSATA reaches transfer rates of at least triple those of USB 2.0 and FireWire 400, it does have one drawback. eSATA requires its own power connector, unlike the aforementioned interfaces. It is still an excellent choice for external disk storage, however. Unlike USB and FireWire interfaces, eSATA does not have to translate data between the interface and the computer. This enhances data transfer speeds, while saving computer processor resources and eliminating the need for an extra off-load chip.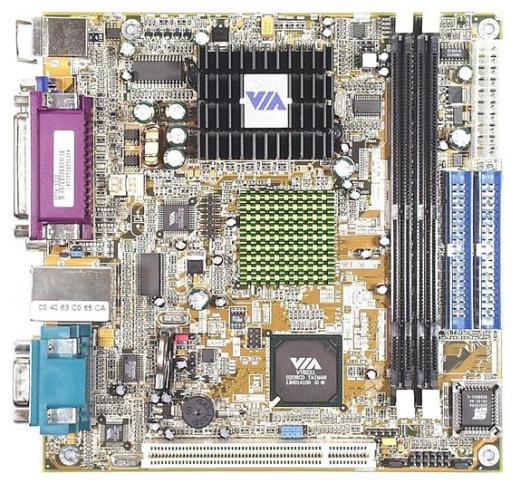 For desktop motherboards that don't have an eSATA connector, a peripheral component interconnect (PCI) card can be purchased and installed in an available PCI slot that will provide an eSATA interface. Notebooks can use an external eSATA device made for the PCMCIA, PC Card, or ExpressCard slot, depending on the laptop model. eSATA enables use of fast SATA drives for external disk arrays, not only expanding valuable storage real estate, but also enabling truly fast portable storage. eSATA's hot-swappable feature makes taking disks from work to home, or from one computer to another, easy. Administrators, IT techs, advertising and marketing executives, and even gamers may find this beneficial.
SATA has differing standards, with older hardware supporting the original standard exclusively. With each new SATA iteration, speed increases. Original SATA, or SATA 150, has a data transfer speed of 150 megabytes per second (MB/s). SATA 3G doubled the speed to 300 MB/s or about 3 GB/s. This is also sometimes referred to as SATA 300.
When purchasing an eSATA controller or bus card, be sure it supports the SATA standard required by your SATA hard drive(s). Hardware that supports newer standards is usually backward compatible with older devices, but the reverse does not hold. An eSATA controller made for SATA 150, for example, will not be able to support the faster transfer speeds of a SATA 300 hard drive.
What Are eSATA Ports?
What is an eSATA port? eSATA, or external SATA, ports are a type of interface used for external hard drives that use SATA technology. Like FireWire 400, IEEE 1394, and USB, it allows for rapid data transfer speeds for external storage drives.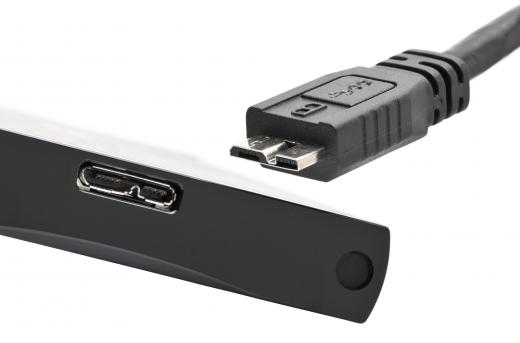 SATA is the successor to ATA for internal bus interfaces. In addition to having faster speeds, compared to parallel ATA cables, eSATA cables are far narrower and easier to manage. They can also be longer: an eSATA cable can be up to 6.56 feet, or two meters, long, but a parallel ATA cable can only be 18 inches, or 45.7 centimeters, long.
eSATA does not require any sort of data translation between the computer and the interface, which allows for speeds of up to six times that of USB 2.0, IEEE 1394, or FireWire 400. eSATA has a strong speed advantage, but this comes at the cost of needing an external power connector. In other words, you have to plug eSATA devices into the wall before they can function.
One advantage of eSATA is that devices that take advantage of this technology are hot-swappable, meaning they can be disconnected and reconnected easily, similar to a USB drive. This allows for efficient and speedy data transport, such as what you might need if you want to bring data from work to home or vice-versa, or if you just want to move data between drives easily.
How To Use eSATA
Using eSATA is as simple as connecting two devices that support the technology together and transferring data like you would between any other modern storage device. If you've ever transferred data between storage devices, you'll know how to use eSATA.
For eSATA to work, it requires an eSATA port on the motherboard. Note that this is not the same thing as a SATA port, so don't try connecting an eSATA cable to a SATA port. If your motherboard does not have an eSATA port, you can install a peripheral component interconnect card that expands your motherboard's capabilities.
There are multiple versions of SATA, so make sure your devices are all using compatible types. The most recent version of eSATA is eSATA 600 or 6 Gbps. Newer types of SATA are backward-compatible with older interfaces, but you will be limited to speeds of the lowest version you're using. For example, if one device uses SATA 300 and another uses SATA 600, you will only get SATA 300 speeds.
While eSATA interfaces are hot-swappable, this does not mean you should disconnect a device while data transfer is in progress. Doing so risks data loss.
Should You Use eSATA or USB 3.0?
When eSATA was first released, it was vastly superior to the existing technologies of USB 2.0 and FireWire. However, with the introduction of USB 3.0, the playing field has changed. USB 3.0 has massive advantages over its 2.0 counterpart, including remarkably faster maximum transfer speeds and being able to act as its own power connector. USB 3.0 also introduces the technology of Bulk Streams, which makes it so multiple data stream transfers can occur at the same time. This means that large files such as HD videos can be transferred far quicker than they could on USB 2.0, which was not designed with particularly large files in mind.
On the most basic level, the most modern version of eSATA beats USB 3.0 in raw maximum transfer speeds, with USB 3.0 having a maximum transfer rate of 5 Gbit/s and eSATA clocking in at 6 Gbit/s. However, this does not mean eSATA is superior or better for your needs, as maximum speeds rarely reflect practical speeds.
The technologies underlying each interface are vastly different and one is not necessarily superior to the other. According to one test, with an external hard drive, USB 3.0 is 20% faster than eSATA at read speeds, but eSATA has superior write speeds, being about 20% faster than USB 3.0 on this measure. In addition, USB 3.0 devices generally do not need an external power connector.
Some external hard drives contain both a USB and an eSATA interface and you will probably get the same transfer speeds for the same hard drive. Generally, the speed will be more limited by the external hard drive itself than the type of interface used. Use whichever interface is more convenient for you.
Your experience may be different, as practical speeds can vary wildly between devices and interfaces. As with all newer technologies, both eSATA and USB are still in development and new versions of each will undoubtedly be released as time goes on.
AS FEATURED ON:
AS FEATURED ON:

By: RomainQuéré

An eSATA card.

By: VIA Gallery

A computer motherboard.

By: akeeris

eSATA competes with FireWire 400 and USB 2.0.

By: Shawn Hempel

SATA 6Gb/s matches the speed standard of USB 3.0, introduced in 2008.