Interactive art is any type of art that involves the viewer in the creative process. Interactive art attempts to challenge the traditional boundary between artist and "audience". It may use a physical medium, as in the case of installation art, or it may be purely digital and Internet-based. Interactive art often uses computing power to govern responses to viewer actions.
The art movement of the early 1900s in Europe and North America laid the groundwork for the emergence of interactive art. People began questioning the role of the artist, work, and viewer in art. French-American artist Marcel Duchamp may have created one of the first examples of interactive art with his 1920 device Rotary Glass Plates. His machine used a motor to spin rectangular pieces of glass that had segments of circles painted on them. When viewed from a distance of 3.28 feet (1 meter), an optical illusion of full circles was formed.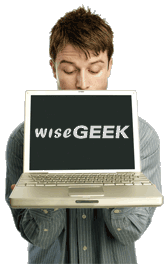 Technology usually factors prominently in interactive art. For a work of art to be interactive, it must have some way of sensing a viewer's actions. This can be in the form of physical sensors or, in the case of Internet-based art, computer input devices like the mouse. The work typically must also have a specific way of responding to inputs. Often, a large number of outcomes are possible with much room for viewer interpretation.
Some works of installation art are interactive. Interest in creating interactive installations surged in the 1990s when digital technology became sufficiently advanced. Embedded sensors in interactive installation art can respond to temperature, motion, or proximity of the viewer to offer a unique experience. Physical works of interactive installation art are increasingly being exhibited in the museum setting.
Interactive architecture is the idea of a designed environment that uses some kind of computation to manage physical responses with users. Some of the groundwork for interactive architecture stemmed from work on cybernetics, the study of regulatory systems, in the early 1960s. The digital advances of the following decades made interactive architecture both technologically and economically feasible. Interactive architecture is a new and evolving concept, but it shares much in common with interactive art.
Video games are interactive applications, but some critics challenge the suggestion that they constitute interactive art. Often video games have very little room for the user to influence the creative dimensions of the game, such as the plot. For example, there may be only two possible endings to a game: victory or defeat. In this case, many critics charge that the game is not art because it is not open-ended.
AS FEATURED ON:
AS FEATURED ON:

Man holding computer