What Should I Consider When Buying a Hard Drive?
If you have never considered the idea of buying a hard drive, you should. Computer experts say that most people don't give the idea enough thought until they are faced with a crashed drive that cannot be fixed. Buying a new drive should not be something that you do out of necessity, but something that you chose to do in order to protect your files. If you plan ahead, it could be one of the best technical investments you could ever make. A hard drive can serve as a secondary storage device, as daily backup, or as a work center.
If you are buying a hard drive, you should start by doing your research. Hard drives vary considerably depending on brand, size, connection type, and other factors. When it comes to brand, for example, this is one time when relying on a well-known name makes sense. Buying from one of the more popular companies guarantees you are buying from a manufacturer who has experience in the making of hardware.
Size is not a major problem when buying a hard drive unless you need it for something like video editing or storage. Very few users need something bigger than 100G, but even 40G is enough for most home computer users. Whether you choose an internal or an external drive makes the biggest difference when it comes to price, as internal hard drives are relatively inexpensive. An external drive is slightly more expensive, but you may be able to buy one on an auction site if you are on a limited budget.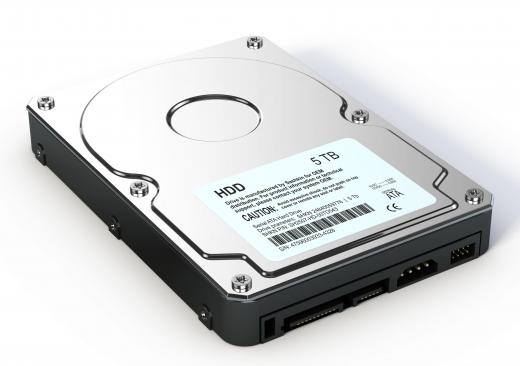 You also need to consider the type of connection you have. Most external drives use USB connections, but other options, such as Firewire, are also possible. Internal drives can have a variety of connections, so be sure to check your manual or ask an expert before choosing a drive.
AS FEATURED ON:
AS FEATURED ON:

An external hard drive.

An internal hard drive.

Hard disk drive with case removed to show the platters and the read-write head.