How Do I Choose the Best Computer Screen?
There are many different factors to consider when trying to choose the best computer screen. Most computer monitors are liquid crystal display (LCD) flat screen units, but there are differences in size, resolution, response time and other areas to consider. You may also want to select a particular computer screen based on how you plan to use it. Graphic artists will tend to benefit from large resolutions and screens that have tightly calibrated colors, while gamers will typically want screens with low response times. There are also three main interfaces that computer screens tend to use, so you may want to consider the devices you already own before settling on a choice.
Most computer monitors use thin film transistor (TFT), active matrix liquid crystal display (LCD) screens. There are a few different technologies out there, but when looking for the best computer screen you will typically choose from a number of different TFT LCD displays. These screens come in both glossy and matte finishes, so that is one choice you may be faced with. A matte finish will typically be easier to see in high light conditions, though specific anti-glare screens are also available.
The first factor that most people consider when looking for a computer screen is size. Larger monitors allow you to have several applications on the screen at once, but most operating systems (OSes) also let you extend your desktop onto multiple monitors. If you need the extra screen space for work or gaming, you may want to consider two smaller monitors instead of one large unit. The screen format is another related factor to consider, as a 16:9 display ratio will allow you to watch high definition (HD) video content on your monitor without any black bars.
Resolution is a related factor that is potentially even more important than screen size. The resolution of a computer screen is the number of pixels that it is capable of displaying, both horizontally and vertically. Larger resolution screens can offer more detail and also allow you to fit more information into a smaller space. If you plan on using your computer screen to play video games, you will typically want a high resolution.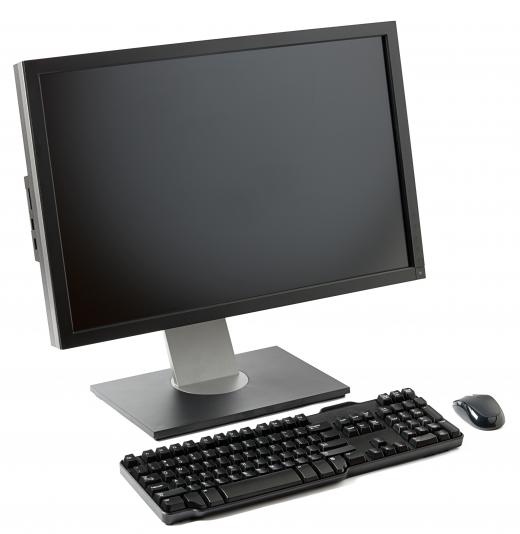 Response time is another item to consider if you plan on playing video games. This refers to the amount of time it takes a pixel to turn on and off, and a good rate is between two and five milliseconds. One factor to take into consideration is that some companies measure the time it takes a gray pixel to turn black and then gray again, which can result in a lower number than the standard of measuring from black to white.
There are also three main interfaces that most computer screens use, which are video graphics array (VGA), digital video interface (DVI) and high definition multimedia interface (HDMI). VGA is an analog format that results in the lowest video quality of the three, so you may want to focus on DVI and HDMI computer screens. Some monitors have multiple inputs, which can be useful if you want to have several devices plugged in at once. In this case, you should make note of the outputs that your devices use so you can choose a computer screen that has the appropriate inputs.
AS FEATURED ON:
AS FEATURED ON:

A HDMI® cable.

LCD monitor.

By: Dmitry Rukhlenko

A desktop computer with a TFT monitor.

By: de_marco

A VGA cable, which is often used with computer screens.

By: Moreno Soppelsa

Most operating systems allow the user to extend the computer desktop onto multiple monitors.