What are Anytime Minutes?
Anytime minutes are minutes on a cell phone that can be used during a specific time period each day, and they are essentially the minutes the person pays for each month. They usually refer to minutes that are used between the hours of 7 AM to 9 PM in many plans, or a slight variation on these hours. In plans, where people are allotted a certain amount of minutes, using the phone during these hours will use up the minutes. Many cell phone companies now offer free nights and weekends, which means that, if people call outside the standard weekday hours, the phone use won't affect the number of minutes still available.
These minutes may also not apply when a person has a shared calling plan, special numbers he can call for free, or a variety of other arrangements. For example, some companies offer free calls between family members. This means that, even if a person calls a specified family member during the day, the number of minutes on his plan does not go down, so if he restricts his calls, he has less chance of being charged extra for more minutes than the plan allows.
The standard structure of early cell phone plans virtually always included anytime minutes, in amounts a customer could pre-order. Depending on how much the person used his cell phone during the day on weekdays, he would try to hazard a guess at how many minutes he might need in a given month. Exceeding that limit was often very costly, with extensive charges for going over the limit. Since phone bills that exceeded anytime limits shocked people, many phone plans now offer more modest charges for going over.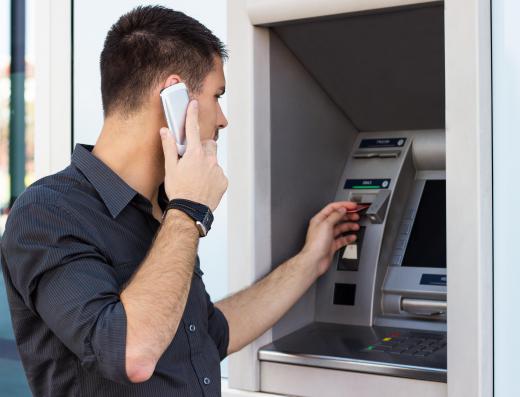 Other plans have skirted the issue of anytime minutes entirely. Some companies now offer flat fee wireless or cellular service, for example, and others offer prepaid cell phones. This keeps track of exactly how much the person is using his cell phone, and simply stops providing service if he doesn't purchase more minutes.
Anytime minutes can also be called whenever minutes or service minutes. It's a clever marketing strategy to refer to the minutes as anytime, since really, these are the minutes the customer pays for. Naturally, he can use them anytime in the specified period, but it's still usually a better deal to use the phone during evening and weekend hours.
AS FEATURED ON:
AS FEATURED ON:

By: Minerva Studio

Anytime minutes typically refer to the minutes used between 7 AM and 9 PM.

By: sanjagrujic

Anytime minutes are what a cell phone user pays for each month.