What is a Convertible Tablet PC?
A convertible tablet personal computer (PC) is a device that combines the features of a traditional laptop with the touchscreen input and form factor of a tablet. These computers typically consist of a hinged screen and keyboard just like any laptop. Unlike most laptops, a convertible tablet PC typically comes equipped with a screen that can be rotated 180 degrees and closed with the viewable portion facing out. This duality allows the computer to be used like a laptop or a tablet depending on the situation. Convertible devices are often more expensive than either laptops or tablets due to the additional mechanism required to implement the rotating screen.
Tablets and laptops are each suited to particular uses due to the different input systems. Laptops include a keyboard and some type of mouse input device, and tablets usually have a touchscreen that is hand or pen operated. It can be difficult to type for extended periods of time using the virtual keyboard of a tablet PC, so these devices are not well suited to people that write extensively. Some tablet PCs have peripheral keyboard attachments to deal with this shortcoming, though that is not always an ideal solution. A convertible tablet PC includes a hardware keyboard, so the screen can simply be rotated around to facilitate typing.
The main benefits of tablet PCs are portability and the touchscreen input method. Most of the time, the portability of a convertible tablet PC will be poor when compared to a dedicated device. Tablets that do not include keyboards are typically thinner and lighter, which can make them easier to carry around. Some dedicated tablets also run on specialized portable operating systems (OSes) and hardware that can improve battery life. In contrast, a convertible tablet PC will typically use a normal desktop OS and have battery life comparable to a similarly sized laptop.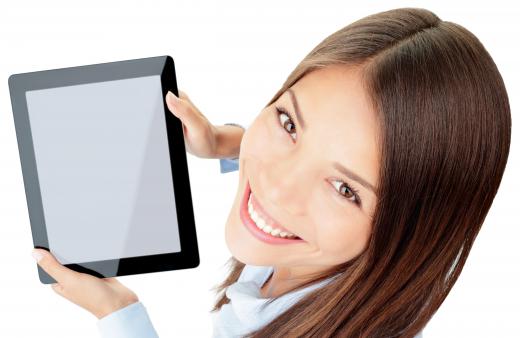 Convertible tablet PCs usually offer the benefit of a touchscreen. These devices are often just as convenient for creating quick notes or using a variety of touchscreen applications as a dedicated tablet. The touchscreen functionality of a convertible tablet PC can often be used for graphic design applications as well. Some convertible tablets include pen functionality that can be used to create digital artwork or manipulate images. Laptops are often more powerful than dedicated tablets, especially when compared to portable devices with small form factors, which can make them better suited to this type of application.
AS FEATURED ON:
AS FEATURED ON:

By: Andres Rodriguez

Convertible tablet PCs can be used like a laptop or a tablet.

By: Ariwasabi

Convertible tablet PCs have touchscreen functionality.

By: viperagp

Convertible tablet PCs make convenient electronic readers.

By: Alexey Laputin

A stylus pen be used with most tablet computers.

By: Igor Mojzes

Convertible tablets are smaller than laptops.