What Is a Custom Circuit Board?
A custom circuit board is a board that holds electronic components and is customized for a particular person or business. Depending on which custom components are used, a custom circuit board may not be suitable for generic purposes. The software required to design this type of circuit board usually is supplied to the user at little or no cost, as of 2011. Most circuit board manufacturers also allow the user to purchase several prototype boards, or they can be mass-produced.
The difference between a custom circuit board and a regular circuit board can be small or great, depending on the user's needs. In a broad sense, the only major difference is that the user is assembling the parts in a way that best suits his needs, rather than relying on generic boards that are sold on the open market. Both are rather common, though hardware developers may use custom boards more often because this allows the user to make a board that works better with the custom hardware.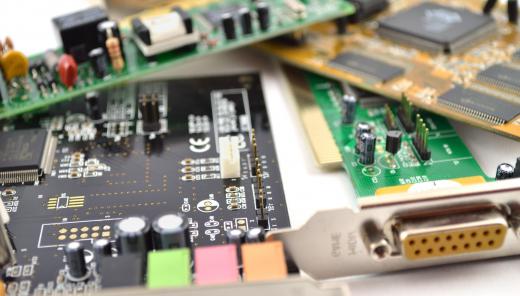 Custom circuit boards may or may not be useful for generic functions, based on how they are created. If the designer makes a custom circuit board that is similar to generic boards, with just uses a few different parts optimized for specific processes, then there should be no problems switching the board for use in other purposes. The user also can entirely optimize the board for a single process, which decreases its versatility but can make it the best board for that one process.
Software generally is required if one wants to design a custom circuit board, and this software generally is inexpensive, if not free. This type of program enables the user to select parts for the board and specify the positioning of those parts. Wiring and contacts also can be positioned through this software, allowing the designer to make all levels of the circuit board before it is produced.
Production runs for a custom circuit board can be done in varying levels. If the user just needs a few boards, then this usually is considered a prototype production run. When many custom boards are needed — this typically is specified as more than 1,000 and less than 5,000, depending on the manufacturer — then it is considered a full production run. Aside from price, which decreases per board if more boards are produced, there is little difference between the two runs.
AS FEATURED ON:
AS FEATURED ON:

By: fusolino

A custom circuit board is designed for a specific purpose rather than mass produced.

By: luchschen_shutter

Circuit boards include an insulated board fitted with electronic components that have been soldered together.