What is a Teleconference Phone?
A teleconference phone is a phone that facilitates teleconferencing, or the active, real-time exchange of speech and information between multiple people. This phone is a special type of device because it is built to accommodate the needs of those engaged in teleconferencing. A teleconference phone also might be referred to as an audio conferencing phone.
A teleconference phone can have any number of features associated with it. Teleconferencing phones often have multiple microphones installed into the devices. They might also utilize liquid crystal display (LCD) screens to help callers better manage their incoming and outgoing calls. Special features might include conference call options and echo cancellation. In addition, a teleconference phone can have the same features as a normal phone, such as speed dial, mute, flash and volume control.
Since teleconferencing usually occurs in a business or company setting, a teleconference phone is equipped to function in these environments. For example, a teleconferencing phone can differ from a standard phone in that it can have a flat design and can be easily placed on top of a table or desk. It might also have speakers and microphones positioned so that multiple people can speak into the phone and hear the person on the other side of the line from any part of the room.
While teleconferencing phones are primarily designed to place clear local, national and international calls, they might also have technological enhancements that can appeal to business owners. Certain teleconferencing phones might have video capabilities that further facilitate the connection between a caller and a recipient. In this way, a teleconferencing session can also become a video conferencing session with the simple click of a button. Data might also be able to be transferred between callers using specific models of teleconferencing phones.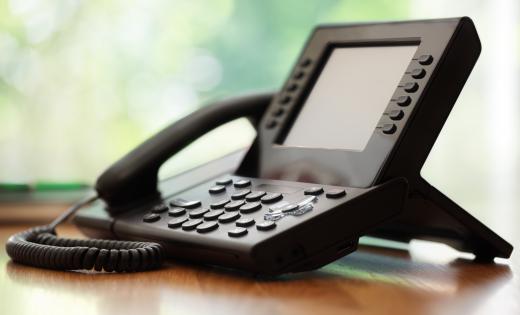 Setting up a teleconference phone can be easy, depending on the manufacturer and model of the teleconference phone. Some teleconferencing phones have simplified setup processes, and a phone typically can be made functional after following a few steps and within a few minutes. Many teleconferencing phones already come equipped with the special connection cables that they require to function.
When purchasing a teleconferencing phone, consumers should first evaluate their needs. Certain teleconferencing phones are better suited for specific situations. For example, a particularly powerful teleconferencing phone capable of picking up voices from across a room probably will not be necessary for an individual conducting teleconferences within an office of average size. Similarly, consumers should select a phone that meets the communication standards of the country in which they plan to operate the phone.
AS FEATURED ON:
AS FEATURED ON:

By: witthaya

Many tablets have teleconferencing capabilities.

By: carlosseller

Certain teleconferencing phones might have video capabilities that further facilitate the connection between a caller and a recipient.

By: Brian Jackson

Teleconference phones are often used by businesses to conduct meetings.