What is a USB Stereo Adapter?
A USB stereo adapter is a device that plugs into a computer, or any other device with Universal Serial Bus (USB) capability, and allows for stereo sound upon playback of audio. Most USB stereo adapters have ports for both headphones and microphones. Stereo-capable speakers can also generally be plugged into the headphone jack if they have the correct type of plug. Wireless and Bluetooth® versions of the USB stereo adapter are also available.
USB technology was originally released in the mid-1990s by the Intel® Corporation. It is used to connect peripheral accessories or other devices to USB capable devices, usually a computer. USB was designed as a response to the technology available at the time that, unlike USB, was slower and harder to configure. Adapters that use USB connections generally are plug and play, meaning no device driver or extra configuration needs to done once it is plugged in.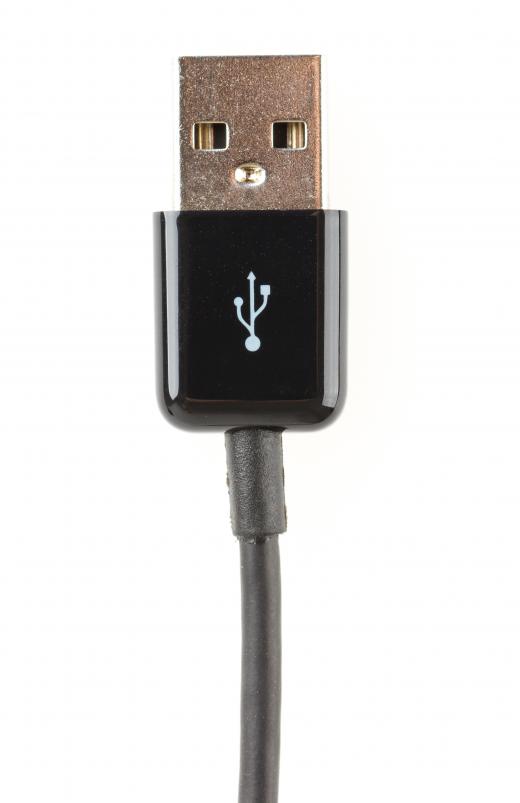 Using a USB adapter provides relatively fast speed; most USB connections move data at a rate up to 480 megabits per second (Mbps). Most computers, and some devices, such as cell phones and MP3 players, have multiple USB ports. It is an easy and fast way to connect a USB compatible device, such as hard drive or monitor, to a computer or other device. While typically not as fast a connection as internally configured interfaces, at least with regard to computers, the speed and ease of use make USB a popular choice.
Using a USB stereo adapter lets computers or other USB compatible devices generate a stereo signal to USB compatible peripherals. One common reason for its use is as a replacement for a soundcard. Normally, a computer has a soundcard that is plugged into the motherboard of the computer; the soundcard allows for expansive and amplified sound. If this breaks or is not functioning properly, the USB stereo adapter is an easy and cheap alternative to having high-quality sound.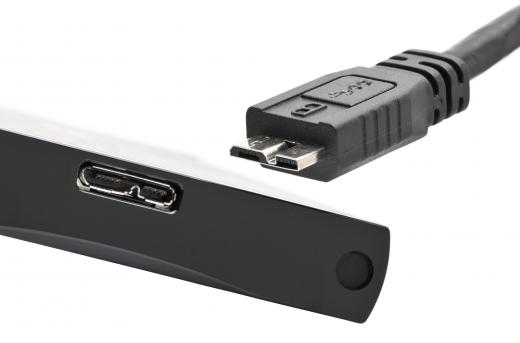 Another key advantage of using a USB stereo adapter is that it can enhance the sound for headphones. Most computers and devices have a specific non-USB plug for headphones, but the sound quality is often weak and sometimes doesn't offer stereo capability, something the USB adapter offers. Having the port for a microphone offers the possibility of stereo quality input as well.
With the advent of wireless and Bluetooth® technology, USB stereo adapters can offer an easy and clutter-free solution to using stereo speakers and headphones. By using the adapter, sound from a computer or other device can be routed to wireless or Bluetooth® speakers, or even a whole stereo system. Wireless headphones are also available, which can be a big bonus, as there are no cords keeping the listener in one place.
AS FEATURED ON:
AS FEATURED ON:

By: michaklootwijk

A USB cable.

By: macbrianmun

USB cables are used to connect devices -- such as printers, keyboards and music players -- to computers.

By: Shawn Hempel

Because of the increased speed available from USB 3.0, it is preferred over previous generations in most audio applications.