What is Sales Presentation Software?
Sales presentation software allows users to present and store information in a precise and simple manner. More often than not, sales presentation software helps a user to create a presentation in the form of a slide show. When sales presentation software was first created, it was primarily used to allow engineers to make quick changes to typesetting. During the 1980s, presentation software took on a whole new meaning.
Around the mid 1980s, computers became widely accessible to the general population. As computers began to evolve, so did the various software programs that were available. Earlier sales presentation software was used to create 35mm film slides that could then be placed inside of a slide projector. Today, sales presentations are created, stored, and viewed directly from a computer. In short, this technology has come a long way since its beginning.
The idea behind sales presentation software is to help a user with a presentation, while also allowing viewers to better understand the topic being presented. Aside from sales applications, this type of software can be used in a business, educational, or entertainment setting. In addition to allowing users to store and sort information, presentation software also provides customized graphics.
Various other devices and programs can be combined with sales presentation software. Nearly any computer program that is compatible with a sales program will help to enhance a presentation. Also, whiteboards, laser pointers, and other presentation instruments may help to create a more memorable presentation. In every manner, sales presentation software has changed the way that presentations are made. As with any other kind of software program, choosing the right presentation software is largely a matter of personal taste. While some programs are user-friendly and uncomplicated, other programs are industry-specific and quite complex.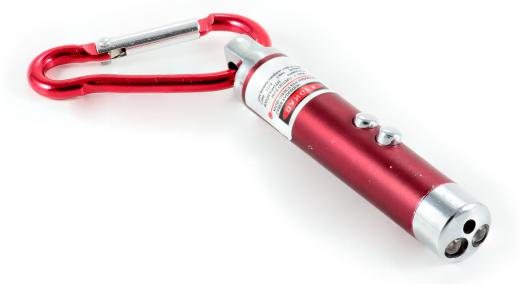 If the concept of presentation software is appealing, begin looking for this type of software according to your needs. Many of these programs offer a variety of different options, though you may not need an overly complicated program. In addition, many software manufacturers create presentation programs that are meant for a specific use. These programs may be worth looking into if you need to create a unique presentation.
Presentation software can be purchased in any computer store or online. The main thing to remember is to search for a program that is easy to use. Keep in mind that the main goal of presentation software is to make presentations simple to piece together. Thus, choosing the program that makes sense to you is the best way to go.
AS FEATURED ON:
AS FEATURED ON:

By: maxoidos

Professional sales presentation software can create and display graphs.

By: eillen1981

Sales presentation software may be uploaded onto a digital projector.

By: crom

Laser pointers can make a memorable contribution to a sales presentation.