Spy gear is equipment used for the surveillance of others, in order to secretly gather information. Spy gear can be as simple as a pair of binoculars and a camera, or as sophisticated as Global Positioning System tracking devices, or infrared night vision equipment used for surveillance in low light. Most spy tools involve a certain amount of specialized technology, making them somewhat costly, especially for those who will not be using the equipment repeatedly. This is often why those who want to collect information may decide to hire a private investigator, who will likely have a good stock of spy equipment.
The most popular types of spy gear include those that enable tracking individuals. Given the current Global Positioning System coverage, GPS-enabled tracking devices have become the standard in the industry. These devices can be easily hidden underneath a vehicle, often being attached by magnets. Those who do not often look under their vehicles will likely not notice anything out of the ordinary. Tracking devices are especially attractive to private investigators, and those wishing to keep track of their spouses.
Another class of equipment is counterintelligence gear. These are devices used to counteract spy gear used by others. For example, there is equipment that can be used to detect covert listening devices, or bugs, which may be placed in a location for surveillance. This type of spy gear is highly specialized, and is only useful if someone already suspects they are being watched.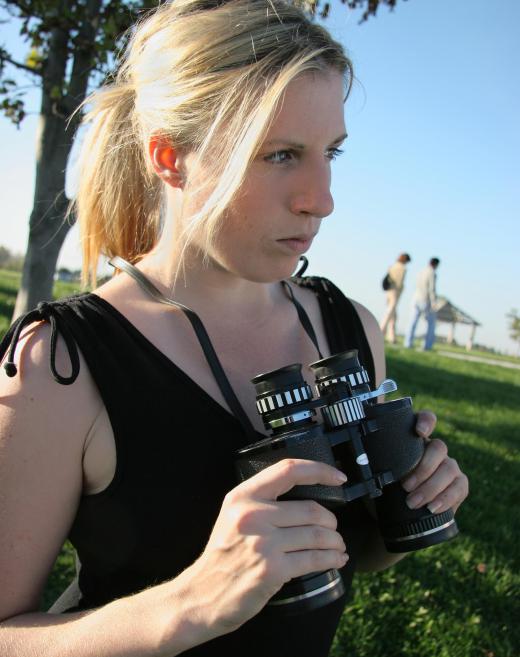 One of the more common spy gear components is the camera. Some of these cameras may be hidden in a certain location, to capture suspicious behavior. Other common cameras used are those with telephoto lenses, which can take clear pictures from a long distance, even in relatively low light. This allows for information to be gathered from a subject who is unaware he or she is being observed.
Other common spy gear components are weapons, often those specifically used for self-defense, and which are easily concealed. This may include a stun gun, which uses very powerful, but non-lethal, electrical force to subdue an attacker. Other equipment along these lines may include standard police equipment, such as handcuffs and sticks. These pieces of equipment can stop a situation from escalating further.
Spy gear can usually be purchased at an army surplus store, or a store specifically geared for spying. If there is no such store locally, the gear can also be acquired online. The buyer is ultimately responsible for determining if such gear is legal in his own area. Therefore, anyone interested in such equipment should take the time to research local laws.
AS FEATURED ON:
AS FEATURED ON:

By: jinga80

Handcuffs might be part of spy gear.

By: Dennis Oblander

Binoculars can be used for long-distance surveillance.

By: Mamuka

Cameras are among the most common spy devices.

By: taramara78

The most popular types of spy gear include those that enable tracking individuals.