What is the Best Way to Clean a Computer?
Computers, like other household appliances, should be cleaned regularly. It's important to make sure you understand what is the best way to clean a computer, however, because if you're not careful, your efforts could cause more harm than good. Wipe down all external components regularly and make sure to clear the dust out of the fan and vents. Cleaning the inside of the computer typically requires special cleaners and techniques.
How often a computer should be cleaned depends on the environment in which it is stored. A computer used by young children should be cleaned once a month, while one used by multiple workers in a business location should be cleaned once every three months. A single adult user who does not smoke and lives in a home with no pets, however, only needs to clean it once every five months.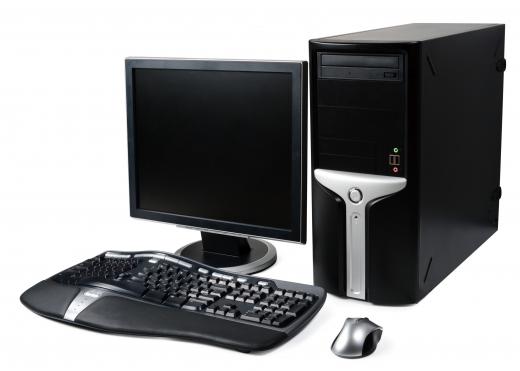 Start by wiping the external components down with a soft cloth that has been moistened with rubbing alcohol. Cotton swabs can be used to reach small spaces in your keyboard and mouse. A vacuum may be helpful for removing dirt, dust, or hair around the computer, but they generate enough static electricity that they should never be used to clean internal computer components.
To clean a computer with an LCD/flat panel display monitor, it's very important to avoid spraying cleaning chemicals directly onto the screen. Avoid using paper towels as well, since the monitor is fragile and easily scratched. Simply wiping the monitor with a soft dry cloth should be sufficient to remove most traces of dirt and fingerprints. For an exceptionally dirty monitor, you can lightly moisten the cloth with rubbing alcohol.
If you need to clean your computer's CD-ROM drive, you can purchase a special cleaner from any major electronics store. This cleaner is designed to make sure the laser is able to read your discs properly.
Cleaning your computer's motherboard can be a complicated task. Compressed air can be used to remove dust, dirt, and hair, but if you're not careful, electrostatic discharge can destroy vital parts of your hardware. It is also difficult to prevent when you clean a computer, since it can occur even if you don't feel a noticeable shock.
You should also regularly clean your computer accessories. To clean your computer's scanner, simply spray household window cleaner onto a paper towel or lint-free cloth and wipe the glass clean. The outside of your computer printer can be wiped clean using a soft cloth moistened with rubbing alcohol, but you should refer to your printer's instruction manual before attempting to clean any internal components.
AS FEATURED ON:
AS FEATURED ON:

By: Dmitriy Melnikov

A desktop personal computer.

By: Tein

Window cleaner can be used to clean a glass monitor.

By: Maxim Pimenov

Chemicals should never be sprayed directly on a flat panel display.

By: Gordana Sermek

A bottle of rubbing alcohol, which can be used to clean a computer.

By: nattstudio

A laptop computer.

By: Marc Dietrich

A person typing.

By: Yanik Chauvin

Cotton swabs may be used to clean a computer.