What is the Difference Between a Serial and Parallel Port?
Both serial ports and parallel ports are examples of computer technology that were once cutting edge; for most of the history of personal computers, both the serial and parallel port were the most common means of data transfer and communication. With technological advances, both the serial and parallel port have largely been replaced by the use of USB ports, and fewer new devices are designed to include either a serial or parallel port. Older personal computers that feature a serial and parallel port often require an adapter cable in order to make use of the latest generation of peripheral devices. Perhaps the main difference between a serial and parallel port is the way information is communicated: a parallel port is only able to transfer information from the hard drive, while a serial port can transfer information both to and from a hard drive.
Parallel Ports
Of the two, the parallel port is the older port design with the first use in the early 1970s, allowing printers to be hooked directly into a mainframe and print orders carried out by entering a section of code through the command station. The parallel port allows for a one-way transmission of data from the source to a secondary device, such as a printer. In some circles, the parallel port became commonly known as the printer port, since that function was originally the most common application of the device. Early external modems and storage devices are a couple examples of the broader use of parallel ports. Since the beginning of the 21st century, the parallel port has largely been replaced by the USB port, although some ancillary devices still allow for connection by both means.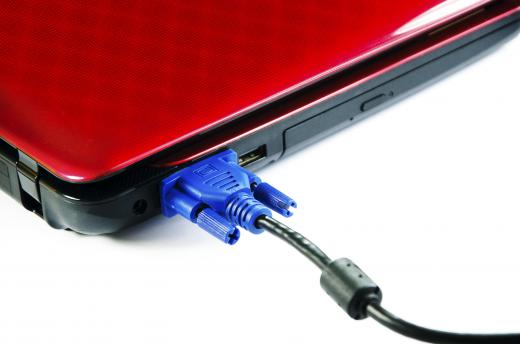 Parallel ports generally have a minimum of 25 pin connectors that make up the actual connecting part of the device. These 25 pins will match up with the end of the device that the port is being connected to and it is through the pins that information is transferred. Each pin connector performs a different function.
Serial Ports
One key difference between a serial and parallel port is that the serial port allows for data to be transferred to the hard drive from a remote device or transferred from the hard drive to a remote device, as opposed to the parallel port's outbound-only communication; a serial port can also be referred to as a communication port or bi-directional port. This two-way communication process makes it possible to connect work stations to larger terminals as well as a wide range of peripheral devices such as external hard drives or smart phones. Serial ports are known to be slower than parallel ports, however, because they can transfer information in two directions simultaneously.
A serial port will usually be made up of either nine or 25 pin connectors; several of the connectors in a 25 pin port are not used regularly. Originally, a nine pin port was believed to be more compact and cost-effective, but often it was not efficient enough to serve its purpose.
AS FEATURED ON:
AS FEATURED ON:

By: kanvag

Parallel ports use a 25-pin connector while serial ports have a nine-pin adapter.

By: intararit

Serial ports may be found on older laptops but are generally not included with a new device as they have been replaced by USB ports.

By: burnel11

Parallel ports were first used in the 1970s to connect computer printers.

By: akeeris

Both serial and parallel ports have been mostly replaced by the use of USB ports.