What is a Multifunction Printer?
A multifunction printer, sometimes abbreviated MFP, is an all-purpose device that prints, faxes, copies and scans. Multifunction printers are generally marketed to small business owners and home offices as a single integrated device that can replace several bulky individual devices. A multifunction printer is also known as a mopier or all-in-one (AIO).
The first multifunction printer was introduced in the early 1990s. Based on inkjet technology, the device was expensive and relatively unreliable, and produced print of mediocre quality. Since then, prices have declined and quality improved as major manufacturers such as Hewlett-Packard, Canon, Lexmark, Xerox and Brother have entered the market.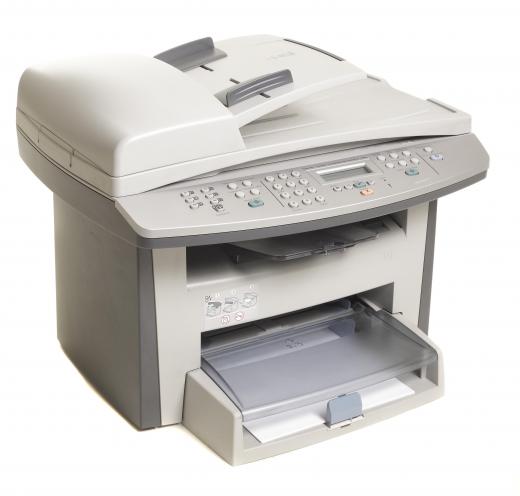 A multifunction printer aimed at general consumers is still likely to be based on inkjet technology. While slow at printing, these devices allow for high quality color output. Some devices now come with media reader slots, enabling users to insert the flash memory cards from their digital cameras. This allows printing of digital photos without having to access a computer. Recent models may also come with a standard port known as PictBridge. PictBridge allows users to connect virtually any recent digital camera directly to the printer, bypassing the home computer.
For the SoHo (Small Office, Home Office) market, a multifunction printer is likely to be based on laser printing technology. While not able to offer the photo-realistic output of inkjets, laser printers produce razor-sharp text, print much faster than inkjets, and cost far less to operate. In recent years, models based on affordable color laser printers have also been introduced.
A multifunction printer aimed at the SoHo market may also have built-in networking. This allows the printer to be shared by everyone on the local network without having to dedicate a specific computer for printing. It may also come with large hard drives, allowing it to be used for permanent document storage. If the multifunction printer comes with OCR, or 0ptical Character Recognition software, scanned paper documents can be automatically turned into standard computer files.
AS FEATURED ON:
AS FEATURED ON:

A multifunction laser printer that can print, scan, copy, and fax.

By: Anna Khomulo

Inkjet printers are best for printing color images.